Mushroom-Spinach Stuffed Shells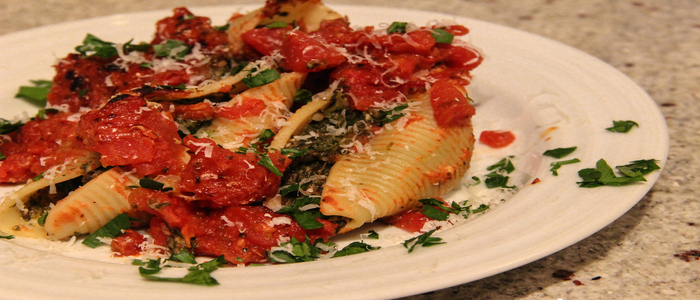 ---
| | | |
| --- | --- | --- |
| Cuisine | : | Italian |
| Calories | : | 190 |
| Type | : | Vegetarian |
| | | |
| --- | --- | --- |
| Serving Size | : | 8 |
| Course | : | Main |
| Preparation Time | : | 90 Min |
---
INGREDIENTS
| No | Ingredient | Quantity | Measure Type |
| --- | --- | --- | --- |
| 1 | Gaint shell | 340 | Gms |
| 2 | Spinach | 240 | Gms |
| 3 | Olive oil | 75 | Ml |
| 4 | Mushrooms | 900 | Gms |
| 5 | Salt and ground black pepper | 0 | To taste |
| 6 | Basil pesto | 50 | Ml |
| 7 | grated parmesan cheese | 500 | Ml |
| 8 | grated parmesan cheese | 500 | Ml |
| 9 | Tomato sauce | 3 | Cup |
---
Recipe Details
I think this is a great dish to serve to guests. You can prepare the filling and stuff the shells in advance. Keep the stuffed shells covered in the refrigerator until you are ready for dinner. Bake them 35 minutes before the guests arrive and you will have an amazing dinner with no last minute hassles.
---
Cooking Instructions
In a large pot, cook the pasta

al dente, following package directions. Drain, rinse, and set aside on a clean tea towel.

In a large skillet, wilt the spinach in 30 ml (2 tbsp) of oil. Cool, drain well and set aside.

In the same skillet, wilt the mushrooms in 45 ml (3 tbsp) of oil and cook until all liquid has evaporated.

Add the cream and continue cooking 5 minutes until the sauce thickens somewhat. Season to taste with salt and pepper and allow to cool slightly.

Add the spinach, pesto and half the cheese. Combine and set aside.

Preheat oven to 200°C / 400°F.

Pour three-quarters of the tomato sauce into a large ovenproof casserole.

Stuff the shells with the mushroom-spinach mixture and arrange them side by side in the casserole.

Spoon the rest of the sauce over the shells and sprinkle with the remaining cheese.

Bake 20 minutes until the cheese is lightly browned.

Serve hot.
---
Garnishing Instructions
---
Serving Instructions
---
Related Recipes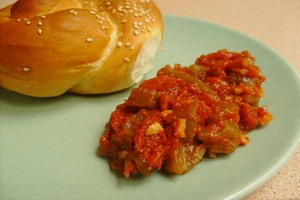 Matbucha
---
| | | |
| --- | --- | --- |
| Type | :&nbsp&nbsp | Vegetarian |
| Calories | :&nbsp&nbsp | 20 |
| Cuisine | :&nbsp&nbsp | Moroccan |
| Course | :&nbsp&nbsp | Main |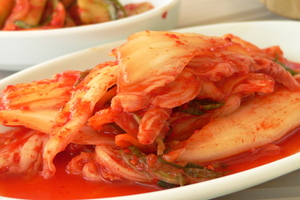 Spicy Cabbage Kimchi
---
| | | |
| --- | --- | --- |
| Type | :&nbsp&nbsp | Vegetarian |
| Calories | :&nbsp&nbsp | 15 |
| Cuisine | :&nbsp&nbsp | Korean |
| Course | :&nbsp&nbsp | Main |