Matbucha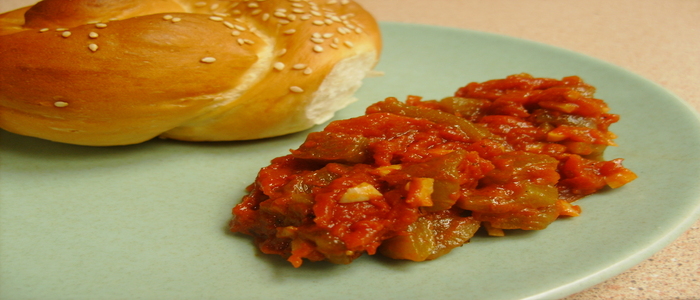 ---
| | | |
| --- | --- | --- |
| Cuisine | : | Moroccan |
| Calories | : | 20 |
| Type | : | Vegetarian |
| | | |
| --- | --- | --- |
| Serving Size | : | 6 |
| Course | : | Main |
| Preparation Time | : | 15 Min |
---
INGREDIENTS
| No | Ingredient | Quantity | Measure Type |
| --- | --- | --- | --- |
| 1 | Olive oil | 1/4 | Cup |
| 2 | Paprika | 1 | Teaspoon |
| 3 | Garlic | 3 | Clove |
| 4 | ground black peeper | 1 | Teaspoon |
| 5 | Tomato | 5 | cup chopped |
| 6 | sea salt or coarse salt | 1 | Pinch |
| 7 | Green bell pepper | 5 | Piece |
| 8 | Lemon juice | 1 | Tablespoon |
| 9 | Jalapeno pepper | 1 | Tablespoon |
---
Recipe Details
Matbucha (Mott-Boo-Chah) is a cooked tomato and roasted bell peppers salad that is popular in Israel, Morocco and throughout the Middle East. The name Matbucha literally means 'cooked salad' in Arabic. It is usually served as a side dish, but it also works well over fish.
---
Cooking Instructions
Heat the olive oil in a large pot over medium heat. Stir in the garlic, tomatoes, bell pepper, and jalapeno pepper. Season with paprika, black pepper, and sea salt. Cook, stirring occasionally for 20 minutes until the vegetables are tender. Reduce heat to low, cover, and cook until the liquid evaporates and the salad thickens, about 2 hours more. Stir in the lemon juice, and refrigerate overnight before serving.
---
Garnishing Instructions
---
Serving Instructions
Refrigerate overnight before serving.
---