Grilled Cheese Sandwich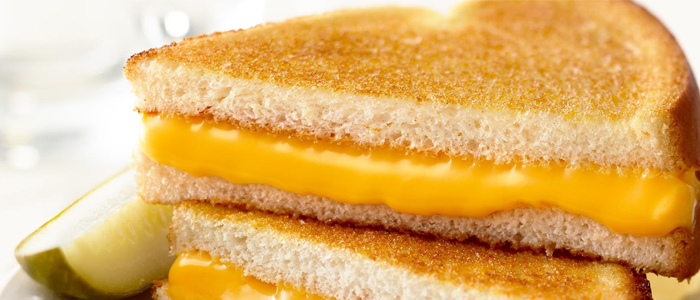 ---
| | | |
| --- | --- | --- |
| Cuisine | : | American |
| Calories | : | 392 |
| Type | : | Vegetarian |
| | | |
| --- | --- | --- |
| Serving Size | : | 2 |
| Course | : | Main |
| Preparation Time | : | 20 Min |
---
INGREDIENTS
| No | Ingredient | Quantity | Measure Type |
| --- | --- | --- | --- |
| 1 | White bread | 4 | Slices |
| 2 | Cheddar cheese | 3 | Slices |
| 3 | Butter | 2 | Tablespoon |
---
Recipe Details
America's Favorite Grilled Cheese Sandwich is also its easiest and most basic nothing but bread, butter and cheese, grilled to golden perfection.
---
Cooking Instructions
Preheat skillet over medium heat. Generously butter one side of a slice of bread. Place bread butter-side-down onto skillet bottom and add 1 slice of cheese. Butter a second slice of bread on one side and place butter-side-up on top of sandwich. Grill until lightly browned and flip over; continue grilling until cheese is melted. Repeat with remaining 2 slices of bread, butter and slice of cheese.
---
Garnishing Instructions
---
Serving Instructions
---