Stuffed Cabbage Rolls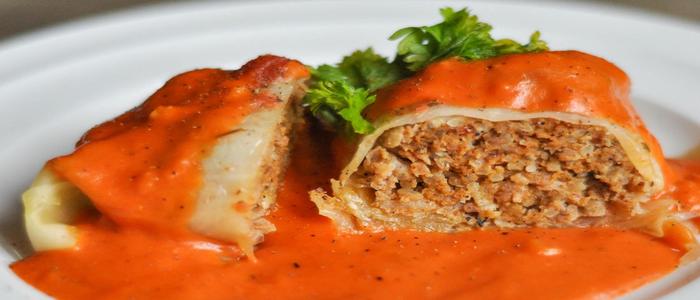 ---
| | | |
| --- | --- | --- |
| Cuisine | : | Polish |
| Calories | : | 371 |
| Type | : | Non Vegetarian |
| | | |
| --- | --- | --- |
| Serving Size | : | 4 |
| Course | : | Appetizer |
| Preparation Time | : | 55 Min |
---
INGREDIENTS
| No | Ingredient | Quantity | Measure Type |
| --- | --- | --- | --- |
| 1 | Cabbage Leaves | 12 | Piece |
| 2 | Cabbage Leaves | 12 | Piece |
| 3 | Ground beef | 1 | Lb |
| 4 | steamed rice | 1 | Cup |
| 5 | Tomato sauce | 15 | Ounces |
| 6 | garlic salt | 1 | Teaspoon |
| 7 | Pepper | 0.25000000 | Teaspoon |
| 8 | Green Pepper | 0.25000000 | Cup |
| 9 | Sugar | 1 | Teaspoon |
| 10 | Cornstarch | 1 | Tablespoon |
| 11 | Water | 1 | Tablespoon |
---
Recipe Details
Cabbage
leaves filled with ground beef and rice are simmered in tomato soup for this Polish-inspired favorite.
---
Cooking Instructions
1. Cover cabbage leaves with boiling water.
2.
Let stand until leaves are limp.
3.
Drain.
4.
Mix beef, rice, 1/2 CUP tomato sauce, garlic salt, pepper, onions and green pepper.
5.
Put 1/3 cup in each leaf; roll, tucking in the sides.
6.
Place, seam side down in baking dish.
7.
Mix remaining tomato sauce with the sugar, pour over rolls.
8.
Cover and bake at 350* for 45 minutes.
9.
Remove from pan, pour juice in saucepan.
10.
Mix cornstarch and water; stir into saucepan.
11.
Cook and stir until mixture boils; cook 1 minute.
12.
Serve with cabbage rolls.
---
Garnishing Instructions
---
Serving Instructions
Let rest covered for 30 minutes before serving.
---