Saffron Rice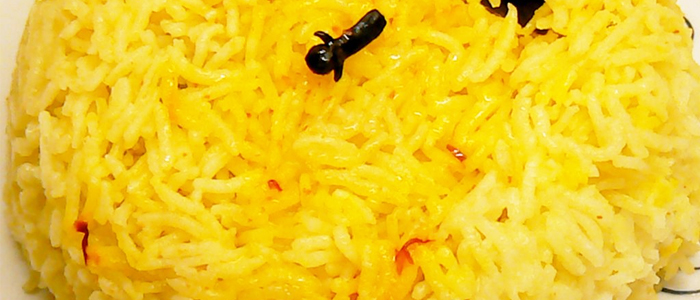 ---
| | | |
| --- | --- | --- |
| Cuisine | : | Indian |
| Calories | : | 154 |
| Type | : | Vegetarian |
| | | |
| --- | --- | --- |
| Serving Size | : | 6 |
| Course | : | Main |
| Preparation Time | : | 25 Min |
---
INGREDIENTS
| No | Ingredient | Quantity | Measure Type |
| --- | --- | --- | --- |
| 1 | Long grain rice | 1 | Cup |
| 2 | Boiling water | 2 | Cup |
| 3 | Butter | 2 | Tablespoon |
| 4 | Salt | 1 | Teaspoon |
| 5 | Saffron | 1/8 | Teaspoon |
---
Recipe Details
Indian saffron is richer, darker in its red-orange color then the Spanish or Italian, and gives a better flavor to rice. The saffron should always be steeped in hot water ahead of time and used as part of the liquid in the recipe. The following is a recipe prepared in the Indian manner.
---
Cooking Instructions
Steep the saffron in 1/2 cup boiling water.

In a skillet that can be tightly covered, melt the butter over medium-high heat. Stir in the rice and salt. Cook, stirring constantly, until the rice begins to absorb the butter and becomes opaque, but do not brown the rice.

Quickly pour in the remaining 1 1/2 cups boiling water along with the saffron water. Cover immediately, reduce heat to low, and cook 20 minutes, or until all of the liquid is absorbed. For best results, do not remove the lid while the rice is cooking.
---
Garnishing Instructions
Garnish with coriander or mint leaves.
---
Serving Instructions
Serve the saffron rice with any dal or indian curry.
---
Related Recipes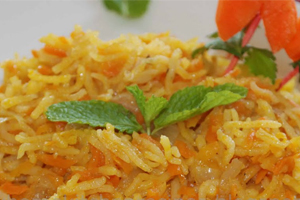 Carrot Rice
---
| | | |
| --- | --- | --- |
| Type | :&nbsp&nbsp | Vegetarian |
| Calories | :&nbsp&nbsp | 179 |
| Cuisine | :&nbsp&nbsp | Indian |
| Course | :&nbsp&nbsp | Main |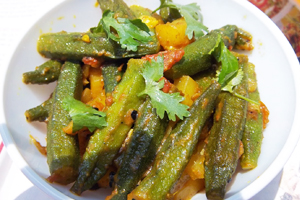 Indian Style Okra
---
| | | |
| --- | --- | --- |
| Type | :&nbsp&nbsp | Vegetarian |
| Calories | :&nbsp&nbsp | 126 |
| Cuisine | :&nbsp&nbsp | Indian |
| Course | :&nbsp&nbsp | Main |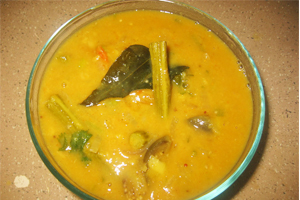 Sambar
---
| | | |
| --- | --- | --- |
| Type | :&nbsp&nbsp | Vegetarian |
| Calories | :&nbsp&nbsp | 306 |
| Cuisine | :&nbsp&nbsp | Indian |
| Course | :&nbsp&nbsp | Main |