Indian Style Okra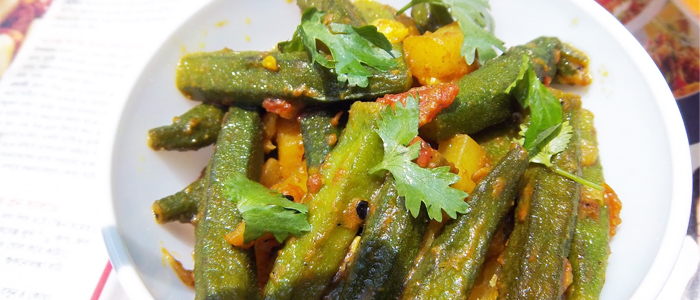 ---
| | | |
| --- | --- | --- |
| Cuisine | : | Indian |
| Calories | : | 126 |
| Type | : | Vegetarian |
| | | |
| --- | --- | --- |
| Serving Size | : | 4 |
| Course | : | Main |
| Preparation Time | : | 35 Min |
---
INGREDIENTS
| No | Ingredient | Quantity | Measure Type |
| --- | --- | --- | --- |
| 1 | Okra | 1 | Pound |
| 2 | Butter | 3 | Tablespoon |
| 3 | Onion | 1 | |
| 4 | Ground cumin | 1/2 | Teaspoon |
| 5 | Ground coriander | 1/2 | Teaspoon |
| 6 | Black pepper | 1/4 | Teaspoon |
| 7 | Salt | to taste | |
| 8 | Ginger | 1/2 | Teaspoon |
---
Recipe Details
My Indian friend taught me how to make this easy traditional Indian okra recipe using fresh okra and spices in a skillet.
---
Cooking Instructions
Melt butter in a large skillet over medium heat. Add the onion, and cook until tender. Stir in the okra, and season with cumin, ginger, coriander, pepper and salt. Cook and stir for a few minutes, then reduce the heat to medium-low, and cover the pan. Cook for 20 minutes, stirring occasionally until okra is tender.
---
Garnishing Instructions
Not available
---
Serving Instructions
---
Related Recipes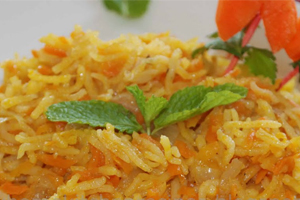 Carrot Rice
---
| | | |
| --- | --- | --- |
| Type | :&nbsp&nbsp | Vegetarian |
| Calories | :&nbsp&nbsp | 179 |
| Cuisine | :&nbsp&nbsp | Indian |
| Course | :&nbsp&nbsp | Main |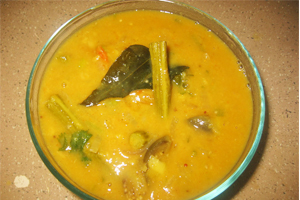 Sambar
---
| | | |
| --- | --- | --- |
| Type | :&nbsp&nbsp | Vegetarian |
| Calories | :&nbsp&nbsp | 306 |
| Cuisine | :&nbsp&nbsp | Indian |
| Course | :&nbsp&nbsp | Main |