Potatoes lyonnaise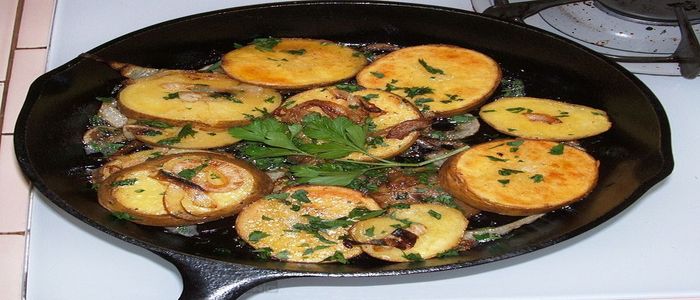 ---
| | | |
| --- | --- | --- |
| Cuisine | : | French |
| Calories | : | 364 |
| Type | : | Vegetarian |
| | | |
| --- | --- | --- |
| Serving Size | : | 2 |
| Course | : | Main |
| Preparation Time | : | 55 Min |
---
INGREDIENTS
| No | Ingredient | Quantity | Measure Type |
| --- | --- | --- | --- |
| 1 | Potato | 1 | Pound |
| 2 | Onions | 1 | Piece |
| 3 | Olive oil | 2 | Tablespoon |
| 4 | Olive oil | 2 | Tablespoon |
| 5 | Butter | 1 | Tablespoon |
| 6 | Garlic | 1 | Clove |
| 7 | Salt and pepper | 1/2 | Teaspoon |
| 8 | Salt and pepper | 1/2 | Tablespoon |
---
Recipe Details
Lyonnaise potatoes is a French dish of sliced pan-fried potatoes and thinly sliced onions, sautéed in butter with parsley.
---
Cooking Instructions
Cut potatoes into 1/4" slices. Add to pot, cover with water, bring to a boil, and boil for 4 minutes.


Sautee onion in olive oil until caramelized, about 8 to 10 minutes. Add garlic and sautee for another minute until brown. Mix with salt, pepper and butter.



Layer potatoes and onions in a casserole dish and bake at 400 degrees for 12 to 15 minutes until lightly browned on top.
---
Garnishing Instructions
Garnish with chopped coriander.
---
Serving Instructions
Transfer to a warmed serving bowl and serve immediately.
---
Related Recipes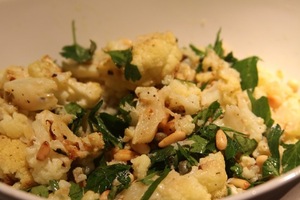 French Roasted Cauliflower Wit..
---
| | | |
| --- | --- | --- |
| Type | :&nbsp&nbsp | Vegetarian |
| Calories | :&nbsp&nbsp | 90 |
| Cuisine | :&nbsp&nbsp | French |
| Course | :&nbsp&nbsp | Main |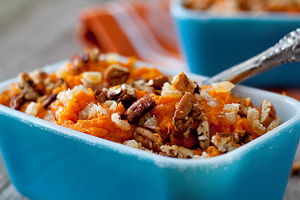 Sweet Potato Casserole
---
| | | |
| --- | --- | --- |
| Type | :&nbsp&nbsp | Vegetarian |
| Calories | :&nbsp&nbsp | 226 |
| Cuisine | :&nbsp&nbsp | French |
| Course | :&nbsp&nbsp | Main |