French Roasted Cauliflower With Thyme
---
| | | |
| --- | --- | --- |
| Cuisine | : | French |
| Calories | : | 90 |
| Type | : | Vegetarian |
| | | |
| --- | --- | --- |
| Serving Size | : | 8 |
| Course | : | Main |
| Preparation Time | : | 40 Min |
---
INGREDIENTS
| No | Ingredient | Quantity | Measure Type |
| --- | --- | --- | --- |
| 1 | Cauliflower | 2 | Lb |
| 2 | Sweet onion | 1 | cup chopped |
| 3 | Garlic | 3 | Clove |
| 4 | Olive oil | 2 | Tablespoon |
| 5 | ground black peeper | 1/4 | Teaspoon |
| 6 | Thyme leaves | 1 | Teaspoon |
| 7 | Salt | 1/2 | Teaspoon |
| 8 | Lemon juice | 0 | To taste |
---
Recipe Details
Oven-roasting the cauliflower brings out a fantastic nutty flavor that you just can't get with other cooking methods.
---
Cooking Instructions
Preheat an oven to 400°F.

Mix cauliflower, onions, and garlic together in a large roasting pan.

Drizzle the vegetables with the oil, season them with the pepper and thyme, and toss gently to coat.

Roast the vegetables uncovered for 20-35 minutes, stirring occasionally, until they turn golden brown. If you like, squeeze a little lemon juice over when serving. The smaller you chop the cauliflower, the less time it takes to bake.
---
Garnishing Instructions
Garnish with reserved cranberries ,pistachios or crispy onions.
---
Serving Instructions
---
Related Recipes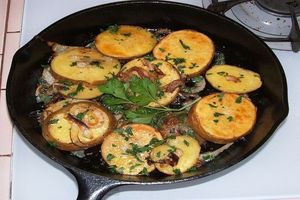 Potatoes lyonnaise
---
| | | |
| --- | --- | --- |
| Type | :&nbsp&nbsp | Vegetarian |
| Calories | :&nbsp&nbsp | 364 |
| Cuisine | :&nbsp&nbsp | French |
| Course | :&nbsp&nbsp | Main |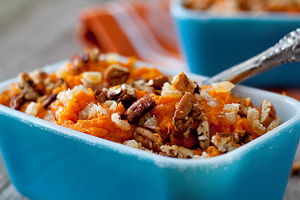 Sweet Potato Casserole
---
| | | |
| --- | --- | --- |
| Type | :&nbsp&nbsp | Vegetarian |
| Calories | :&nbsp&nbsp | 226 |
| Cuisine | :&nbsp&nbsp | French |
| Course | :&nbsp&nbsp | Main |