Mini Jangiri or Jalebi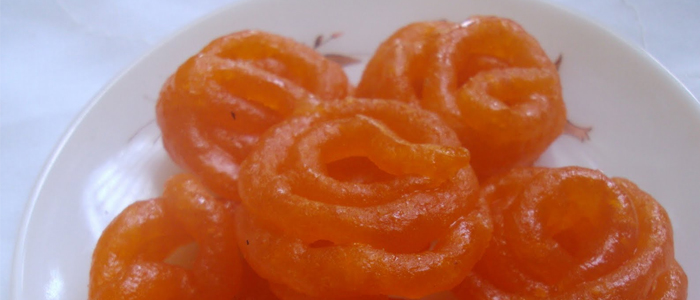 ---
| | | |
| --- | --- | --- |
| Cuisine | : | Indian |
| Calories | : | 150 |
| Type | : | Vegetarian |
| | | |
| --- | --- | --- |
| Serving Size | : | 6 |
| Course | : | Dessert |
| Preparation Time | : | 80 Min |
---
INGREDIENTS
| No | Ingredient | Quantity | Measure Type |
| --- | --- | --- | --- |
| 1 | Rice flour | 1 | Tablespoon |
| 2 | Maida | 1 | Tablespoon |
| 3 | Yoghurt | 2 | Teaspoon |
| 4 | Ghee | 2 | Tablespoon |
| 5 | Salt | 3/4 | Teaspoon |
| 6 | Water | 2 | Cup |
| 7 | Refined oil | 1 | Cup |
| 8 | Ghee | 1 | Tablespoon |
| 9 | Urad dal | 1 | Cup |
| 10 | Sugar | 2 | Cup |
| 11 | Vanilla(or rose) essence | 1 | Teaspoon |
| 12 | Orange colour | 1/2 | Teaspoon |
---
Recipe Details
Jalebi
is a deep fried sweet made from maida flour and then soaked in syrup.
---
Cooking Instructions
Take a kadai,add 2 cups water.When it begins to boil add the sugar ,little by little, and dissolving it .Prepare the sugar syrup with 2 cups water and 1 1/2 cup sugar(keeping the flame low).

When it begins to thicken,add the yellow colour and the vanilla essence.Mix well for a min and Turn off the flame.

Now grind the uraddal in a mixer-grinder without adding water.

Take a bowl add the rice-flour,maida flour,salt,yoghurt and the ghee to the ground uraddal and mix it to a fine dough.

Heat oil and 2 tbsp ghee in a kadai on low flame.Take a thick plastic paper or a thick cloth and fold it cone-shaped(like the cone u use for creaming the cake or u can use the murukku mould with one small hole in the centre to do this) fill this cone with the dough and cut to make a little hole at the bottom and press the dough over the heated oil to make jalebi or jangiri.

Do 4-5 jangiri at a time and fry on bothsides and take this out when done but it should not turn colour (before turning into light brown).
---
Garnishing Instructions
Not available.
---
Serving Instructions
Put these jangiris in sugar syrup and let it soak for an hour atleast -before serving
them.
---
Related Recipes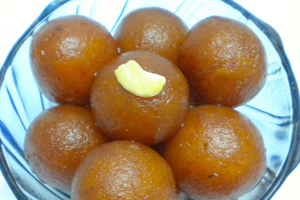 Idli-Bread Jamun
---
| | | |
| --- | --- | --- |
| Type | :&nbsp&nbsp | Vegetarian |
| Calories | :&nbsp&nbsp | 438 |
| Cuisine | :&nbsp&nbsp | Indian |
| Course | :&nbsp&nbsp | Dessert |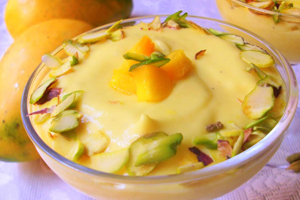 Aamarkand
---
| | | |
| --- | --- | --- |
| Type | :&nbsp&nbsp | Vegetarian |
| Calories | :&nbsp&nbsp | 185 |
| Cuisine | :&nbsp&nbsp | Indian |
| Course | :&nbsp&nbsp | Dessert |