Hungarian Omelet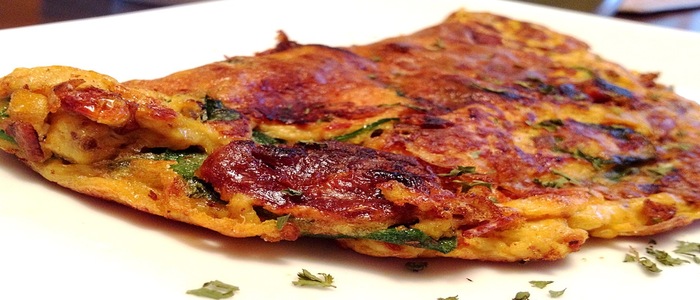 ---
| | | |
| --- | --- | --- |
| Cuisine | : | Hungarian |
| Calories | : | 250 |
| Type | : | Eggetarian |
| | | |
| --- | --- | --- |
| Serving Size | : | 4 |
| Course | : | Appetizer |
| Preparation Time | : | 20 Min |
---
INGREDIENTS
| No | Ingredient | Quantity | Measure Type |
| --- | --- | --- | --- |
| 1 | Butter | 5 | Tablespoon |
| 2 | Onions | 1 | Piece |
| 3 | Mushrooms | 1 | Cup |
| 4 | Egg | 6 | Piece |
| 5 | Salt | 1/2 | Teaspoon |
| 6 | Black pepper | 1/2 | Teaspoon |
| 7 | Hungarian sweet paprika | 1/2 | Teaspoon |
---
Recipe Details
Hungarian Omelet
Recipe Breakfast and Brunch, Lunch and Snacks with butter, onion, mushrooms, beaten eggs, salt, black pepper, sweet paprika.
---
Cooking Instructions
Saute onion in butter over medium heat in a large skillet until golden brown, 10 minutes.

Add mushrooms and paprika and cook until the mushrooms are soft, about 5 minutes.

Reduce heat to low.

Whisk eggs, salt and pepper and add to pan. Cook slowly for about 10 minutes.

Lift and allow uncooked portion to flow underneath until all of the uncooked egg has been moved.

IF YOU WOULD LIKE TO BROWN THE OTHER SIDE:.

Using a plate the size of the pan, carefully slide the omelet onto the plate. Turn skillet over and place on top of the plate. Turn skillet and plate at the same time, placing skillet back on burner while keeping plate on top until in place (as though it were a pot lid). Remove plate and cook a few minutes to brown that side OR place under broiler for a few minutes.

You will have circular omelet, not a half moon shape. Do NOT attempt top FOLD in half.

Cut into wedges and serve with a dollop of sour cream and chopped green onions.
---
Garnishing Instructions
---
Serving Instructions
---