Garlic and Egg Fried Rice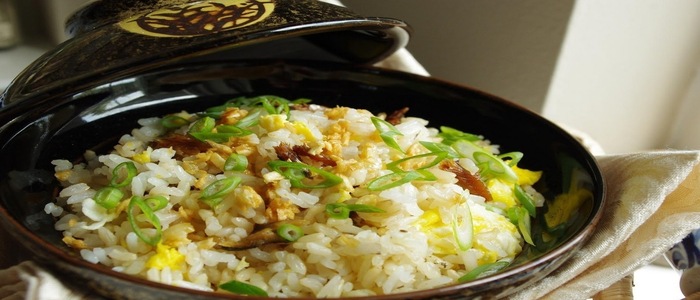 ---
| | | |
| --- | --- | --- |
| Cuisine | : | Chinese |
| Calories | : | 511 |
| Type | : | Non Vegetarian |
| | | |
| --- | --- | --- |
| Serving Size | : | 2 |
| Course | : | Main |
| Preparation Time | : | 15 Min |
---
INGREDIENTS
| No | Ingredient | Quantity | Measure Type |
| --- | --- | --- | --- |
| 1 | Oil | 2 | Teaspoon |
| 2 | Egg | 1 | Piece |
| 3 | Ginger paste | 1 | Tablespoon |
| 4 | Garlic | 2 | Clove |
| 5 | Red chillis | 1 | Piece |
| 6 | steamed rice | 1 | Bowl |
| 7 | Salt | 1 | As required |
| 8 | pepper | 0 | To taste |
| 9 | Soy sauce | 1 | Tablespoon |
| 10 | chopped coriander | 1 | Tablespoon |
---
Recipe Details
---
Cooking Instructions
1. In a pan add oil.
2. Add the egg. Cook for a minute.
3. Add the ginger, garlic and red chillies.
4. Add the steamed rice. Toss well.
5. Add salt, pepper and soya sauce.
6. Garnish with coriander leaves.
---
Garnishing Instructions
Garnish with chopped coriander leaves or fried beans.
---
Serving Instructions
---