Chicken Manchurian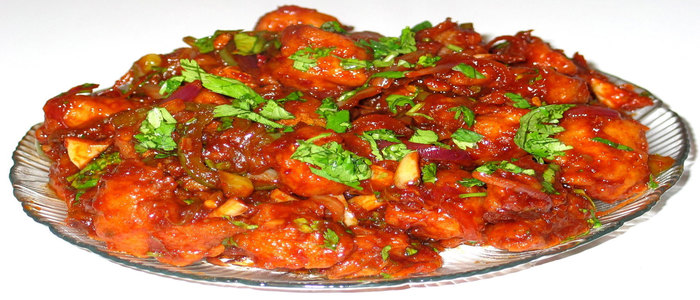 ---
| | | |
| --- | --- | --- |
| Cuisine | : | Chinese |
| Calories | : | 289 |
| Type | : | Non Vegetarian |
| | | |
| --- | --- | --- |
| Serving Size | : | 4 |
| Course | : | Main |
| Preparation Time | : | 60 Min |
---
INGREDIENTS
| No | Ingredient | Quantity | Measure Type |
| --- | --- | --- | --- |
| 1 | Chicken boneless | 1 | Lb |
| 2 | Corn flour | 1/2 | Tablespoon |
| 3 | Egg | 1 | Piece |
| 4 | Salt | 1/2 | Tablespoon |
| 5 | Salt and ground black pepper | 1/2 | Tablespoon |
| 6 | Oil | 2 | Tablespoon |
| 7 | Ground ginger | 2 | Tablespoon |
| 8 | Garlic chopped | 2 | Tablespoon |
| 9 | Green chile peppers | 2 | Tablespoon |
| 10 | chopped coriander | 2 | Tablespoon |
| 11 | Chicken stock | 1 | Cup |
| 12 | Soy sauce | 1 | Tablespoon |
| 13 | Sugar | 1/4 | Tablespoon |
| 14 | Ajinomoto | 1/4 | Teaspoon |
---
Recipe Details
Made from authentic Chinese flavors, this dish is a must try! Fried chicken balls cooked in a spicy sauce batter. Served with steamed rice or hakka noodles.
---
Cooking Instructions
1. Mix corn flour, flour, salt and pepper with the beaten egg to make the batter.
2. Dip the chicken pieces in the batter, deep fry till golden brown. Keep aside.
3. For the Manchurian sauce, heat oil in a pan. Lightly fry garlic and ginger till they just change color.
4. Add green chilies and cilantro leaves. Fry for a minute.
5. Reduce heat, add chicken stock, Soya sauce, salt, sugar, pepper and ajinomoto.
Cook for 5 minutes.
6. Add corn flour mixed with water and give one boil. Add fried chicken and
cook for 1-2 minutes. Serve hot.
---
Garnishing Instructions
Garnish with coriander leaves.
---
Serving Instructions
Served hot with steamed rice or hakka noodles.
---