Dol Sot Bi Bim Bap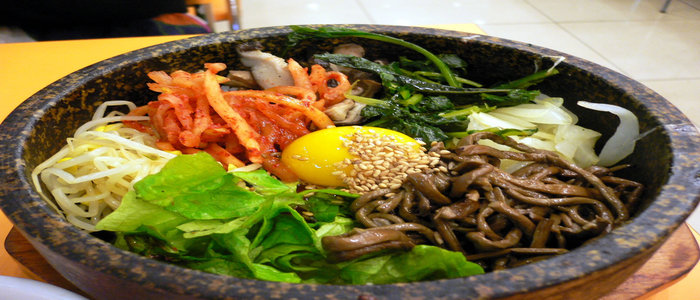 ---
| | | |
| --- | --- | --- |
| Cuisine | : | Korean |
| Calories | : | 560 |
| Type | : | Non Vegetarian |
| | | |
| --- | --- | --- |
| Serving Size | : | 4 |
| Course | : | Main |
| Preparation Time | : | 120 Min |
---
INGREDIENTS
| No | Ingredient | Quantity | Measure Type |
| --- | --- | --- | --- |
| 1 | short-grain rice | 2 | Cup |
| 2 | beef scotch fillet | 400 | Gms |
| 3 | Soy sauce | 1 | Tablespoon |
| 4 | Sesame oil | 1/4 | Ml |
| 5 | Garlic | 3 | Tablespoon |
| 6 | Salt and pepper | 0 | Pinch |
| 7 | Sugar | 0 | Pinch |
| 8 | dried shiitake mushrooms | 1 | Cup |
| 9 | Carrot | 2 | small |
| 10 | Daikon or white radish | 1 | small |
| 11 | zucchini or courgette | 2 | small |
| 12 | Spinach | 1 | Bunch |
| 13 | Egg yolks | 4 | As required |
---
Recipe Details
Bibimbap is a signature Korean dish. The word literally means "mixed rice". Bibimbap is served as a bowl of warm white rice topped with namul and gochujang. A raw or fried egg and sliced meat are common additions.
---
Cooking Instructions
Rinse the rice in cold water and drain, then repeat twice to make sure the grains are thoroughly washed. Put the rice in a saucepan and place a hand flat over the top. Fill with cold water to the top of your hand. Cover with a lid and simmer until the water is absorbed (approximately 20 minutes).
Combine the beef with 1 tablespoon of the soy sauce, a little sesame oil, 3 teaspoons of the garlic, the sugar and a pinch of pepper. Stir-fry until the beef is golden brown and set aside.
Mix the mushrooms with the remaining soy sauce, a little sesame oil, 2 teaspoons of the garlic and pepper and set aside.
Stir-fry the carrot in a little sesame oil with 2 teaspoons of the garlic and a pinch of salt and pepper. Scoop onto a plate and repeat with the daikon and zucchini.
Bring a saucepan of water to the boil and blanch the spinach leaves for 15 seconds, then scoop out, drain, place in a bowl and toss with some sesame oil, a little garlic, and salt and pepper. Repeat with the bean sprouts.
Put a teaspoon of sesame oil in the base of each stone bowl. Put some rice in the bowls and arrange small mounds of beef and vegetables over the top. Gently place an egg yolk in the middle and a teaspoon (or more to taste) of gochujang to the side. Pour another tablespoon of sesame oil around the edge of each bowl.
Place the stone bowls over high heat on the stove for approximately 5 minutes, or until you can hear the rice popping and crackling. Carefully remove the hot bowls from the heat and serve.
---
Garnishing Instructions
Not available.
---
Serving Instructions
Serve Hot.
---
Related Recipes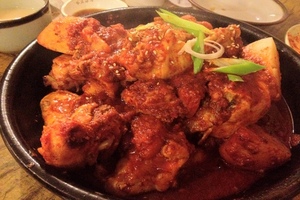 Korean Spicy Chicken and Potat..
---
| | | |
| --- | --- | --- |
| Type | :&nbsp&nbsp | Non Vegetarian |
| Calories | :&nbsp&nbsp | 673 |
| Cuisine | :&nbsp&nbsp | Korean |
| Course | :&nbsp&nbsp | Main |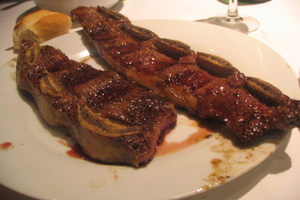 Kalbi (Korean BBQ Short Ribs)
---
| | | |
| --- | --- | --- |
| Type | :&nbsp&nbsp | Non Vegetarian |
| Calories | :&nbsp&nbsp | 658 |
| Cuisine | :&nbsp&nbsp | Korean |
| Course | :&nbsp&nbsp | Main |