Kimbop (Korean Sushi)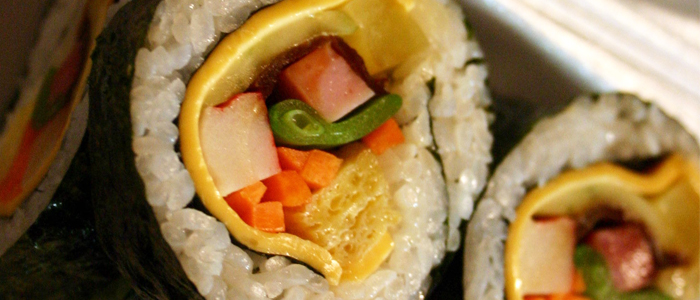 ---
| | | |
| --- | --- | --- |
| Cuisine | : | Korean |
| Calories | : | 354 |
| Type | : | Non Vegetarian |
| | | |
| --- | --- | --- |
| Serving Size | : | 4 |
| Course | : | Main |
| Preparation Time | : | 60 Min |
---
INGREDIENTS
| No | Ingredient | Quantity | Measure Type |
| --- | --- | --- | --- |
| 1 | Sushi rice | 1 | Cup |
| 2 | Water | 1 & 1/2 | Cup |
| 3 | Sesame oil | 1 | Tablespoon |
| 4 | Salt | | To taste |
| 5 | Egg | 2 | |
| 6 | Dry seaweed | 4 | |
| 7 | Cucumber | 1 | |
| 8 | Carrot | 1 | |
| 9 | American processed cheese | 4 | |
| 10 | Sesame oil | 2 | Teaspoon |
| 11 | Ham | 4 | |
---
Recipe Details
I received this great recipe for Korean Sushi from a Korean friend of mine. It is different and very good.
---
Cooking Instructions
While the rice is simmering, pour the eggs into a skillet over medium-high heat and allow to cook without stirring or turning to get a flat layer of cooked egg. When egg is completely cooked, remove from skillet and set aside on a cutting board to cool.

Separate the nori sheets onto a flat surface and divide the cooled rice between them, leaving only a half-inch strip of seaweed visible at the top of each sheet. Arrange strips of egg, cucumber, carrot, cheese, and ham in thin layers on top of the rice. Beginning with the bottom of each sheet of nori, use a bamboo sushi mat to firmly roll each piece into a cylindrical shape. Brush each roll with 1/2 teaspoon of sesame oil and cut into six even pieces.
---
Garnishing Instructions
---
Serving Instructions
cut into six even pieces and serve.
---
Related Recipes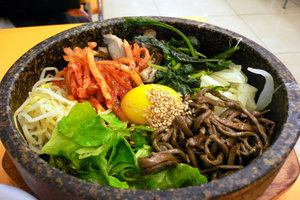 Dol Sot Bi Bim Bap
---
| | | |
| --- | --- | --- |
| Type | :&nbsp&nbsp | Non Vegetarian |
| Calories | :&nbsp&nbsp | 560 |
| Cuisine | :&nbsp&nbsp | Korean |
| Course | :&nbsp&nbsp | Main |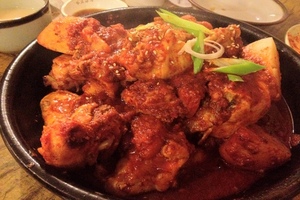 Korean Spicy Chicken and Potat..
---
| | | |
| --- | --- | --- |
| Type | :&nbsp&nbsp | Non Vegetarian |
| Calories | :&nbsp&nbsp | 673 |
| Cuisine | :&nbsp&nbsp | Korean |
| Course | :&nbsp&nbsp | Main |