Creamy Cajun Chicken Pasta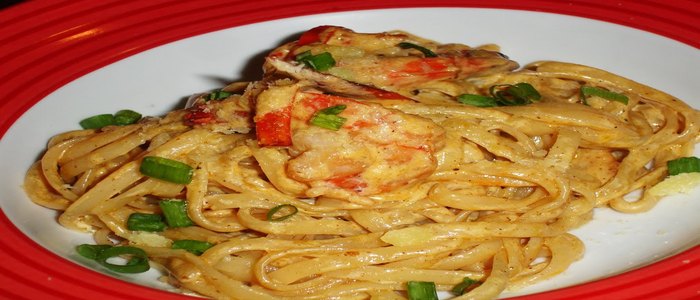 ---
| | | |
| --- | --- | --- |
| Cuisine | : | American |
| Calories | : | 924 |
| Type | : | Non Vegetarian |
| | | |
| --- | --- | --- |
| Serving Size | : | 2 |
| Course | : | Main |
| Preparation Time | : | 30 Min |
---
INGREDIENTS
| No | Ingredient | Quantity | Measure Type |
| --- | --- | --- | --- |
| 1 | Boneless Chicken breast | 2 | Piece |
| 2 | linguine | 4 | Ounces |
| 3 | cajun seasoning | 2 | Teaspoon |
| 4 | Butter | 2 | Tablespoon |
| 5 | Green onion | 1 | Piece |
| 6 | Whipping cream | 2 | Cup |
| 7 | Sun-dried tomatoes | 2 | Tablespoon |
| 8 | Salt and ground black pepper | 0 | As required |
| 9 | dried basil | 1/4 | Teaspoon |
| 10 | Garlic powder | 1/4 | Teaspoon |
---
Recipe Details
Try this when you are feeling daring and want to mix things up a bit! A Southern inspired recipe that is sure to add a little fun to your dinner table. Try serving it with corn bread.
---
Cooking Instructions
1
. Place chicken and Cajun seasoning in a bowl and toss to coat.
2.
In a large skillet over medium heat, sauté chicken in butter or margarine until chicken is tender, about 5 to 7 minutes.
3..
Reduce heat add green onion, heavy cream, tomatoes, basil, salt, garlic powder, black pepper and heat through.
4.
Pour over hot linguine and toss with Parmesan cheese.
---
Garnishing Instructions
Sprinkle with grated Parmesan cheese.
---
Serving Instructions
Serve it with corn bread.
---