Chicken Thighs With Lemon Garlic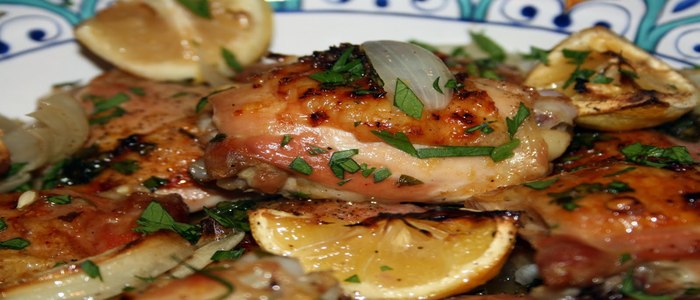 ---
| | | |
| --- | --- | --- |
| Cuisine | : | French |
| Calories | : | 1277 |
| Type | : | Non Vegetarian |
| | | |
| --- | --- | --- |
| Serving Size | : | 4 |
| Course | : | Main |
| Preparation Time | : | 75 Min |
---
INGREDIENTS
| No | Ingredient | Quantity | Measure Type |
| --- | --- | --- | --- |
| 1 | Chicken thighs | 3 | Pound |
| 2 | Chicken thighs | 3 | Pound |
| 3 | Salt | 1 | Teaspoon |
| 4 | Salt and ground black pepper | 0 | As required |
| 5 | All-purpose flour | 1/2 | Cup |
| 6 | All-purpose flour | 1/2 | Cup |
| 7 | Olive oil | 1/4 | Cup |
| 8 | sliced onion | 3 | Cup |
| 9 | Garlic | 30 | Clove |
| 10 | Red pepper | 1/2 | Teaspoon |
| 11 | Bay leaf | 1 | Bunch |
| 12 | Lemon juice | 1/2 | Cup |
| 13 | Chicken broth | 1 | Cup |
| 14 | angel hair pasta | 1 | Pound |
| 15 | Parsley | 3 | Tablespoon |
| 16 | Unsalted butter | 3 | Tablespoon |
---
Recipe Details
Lemon garlic chicken thighs are a super easy weeknight meal. By using chicken thighs, you get tons of flavor and they stay nice and juicy - no dry and terrible chicken breasts here! You'll need to marinate the thighs for a couple hours or even overnight, but they take less than an hour to cook and you can spend that time making all kinds of yummy sides.
---
Cooking Instructions
Preheat the oven to 350 degrees F.

Season the chicken thighs with 1 1/4 teaspoons of the salt and 1 teaspoon of the freshly ground pepper.

Place the flour in a shallow dish. Lightly dredge the chicken in the flour and set aside.

In a large wide saute pan with 2 to 3-inch sides, heat the oil over medium-high heat. When the oil is hot but not smoking, add the thighs and brown well on both sides, about 6 minutes. Remove the chicken from the pan and set aside.

Add the onions to the oil and cook, stirring to scrape up any browned bits from the chicken until wilted, about 3 minutes. Add the garlic, crushed red pepper, remaining 1/2 teaspoon salt, and the bay leaf and cook 1 minute. Add the lemon juice, chicken broth, and browned chicken thighs to the pan. Bring the mixture to a simmer, cover tightly, and place in the oven. Bake for 20 minutes, remove the lid and cook an additional 15 minutes, or until cooked through and tender.

While the chicken is baking, cook the pasta until al dente, 4 to 5 minutes for dry pasta. Drain well and toss in a large bowl with 3 tablespoons of the parsley and the butter.

To serve, place a portion of pasta in the center of 4 large plates. Arrange 2 thighs around each serving of pasta and drizzle lemon garlic cooking liquid over the pasta. Garnish with additional parsley and serve immediately.
---
Garnishing Instructions
Garnish with additional parsley.
---
Serving Instructions
---
Related Recipes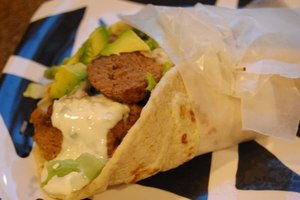 Ground Beef Gyros
---
| | | |
| --- | --- | --- |
| Type | :&nbsp&nbsp | Non Vegetarian |
| Calories | :&nbsp&nbsp | 436 |
| Cuisine | :&nbsp&nbsp | European |
| Course | :&nbsp&nbsp | Main |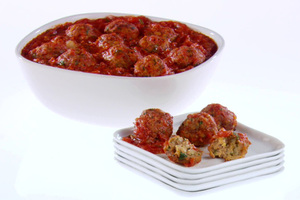 Authentic Italian Meatballs
---
| | | |
| --- | --- | --- |
| Type | :&nbsp&nbsp | Non Vegetarian |
| Calories | :&nbsp&nbsp | 59 |
| Cuisine | :&nbsp&nbsp | European |
| Course | :&nbsp&nbsp | Main |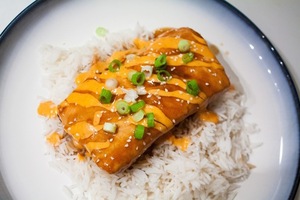 Teriyaki Salmon with Sriracha ..
---
| | | |
| --- | --- | --- |
| Type | :&nbsp&nbsp | Non Vegetarian |
| Calories | :&nbsp&nbsp | 395 |
| Cuisine | :&nbsp&nbsp | European |
| Course | :&nbsp&nbsp | Main |