Hungarian Mushroom Soup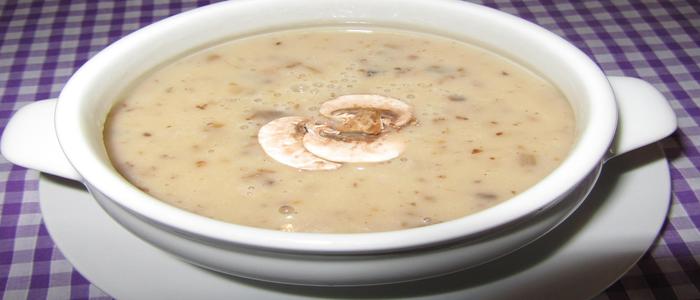 ---
| | | |
| --- | --- | --- |
| Cuisine | : | Hungarian |
| Calories | : | 226 |
| Type | : | Non Vegetarian |
| | | |
| --- | --- | --- |
| Serving Size | : | 4 |
| Course | : | Soup |
| Preparation Time | : | 45 Min |
---
INGREDIENTS
| No | Ingredient | Quantity | Measure Type |
| --- | --- | --- | --- |
| 1 | Mushrooms | 12 | Ounces |
| 2 | Onions | 2 | cup chopped |
| 3 | Butter | 2 | Tablespoon |
| 4 | Flour | 3 | Tablespoon |
| 5 | Milk | 1 | Cup |
| 6 | Dill weed | 2 | Tablespoon |
| 7 | Hungarian sweet paprika | 1 | Tablespoon |
| 8 | Salt | 1 | Teaspoon |
| 9 | tamari soy sauce | 1 | Tablespoon |
| 10 | stock | 2 | Cup |
| 11 | Lemon juice | 2 | Teaspoon |
| 12 | Parsley | 1/4 | cup chopped |
| 13 | Ground pepper | 0 | To taste |
| 14 | Sour cream | 1/2 | Cup |
---
Recipe Details
This classic
soup
is a wonderful preparation of wild
mushrooms
. Their flavor reigns in every rich bite, and the large
mushroom
pieces are deliciously meaty.
---
Cooking Instructions
1. Saute onions in 2 Tbsp stock, salt lightly.
2.
A few minutes later, add mushrooms, 1 tsp dill, 1/2 cup stock or water, soy sauce, and paprika.
3.
Cover and simmer 15 minutes.
4.
Melt butter in large saucepan.
5.
Whisk in flour and cook, whisking, a few minutes.
6.
Add milk and cook, stirring frequently, over low heat about 10 minutes - until thick.
7.
Stir in mushroom mixture and remaining stock.
8.
Cover and simmer 10-15 minutes.
9.
Just before serving, add salt, pepper, lemon juice, sour cream, and, if desired, extra dill (1 tsp).
10.
Serve garnished with parsley.
---
Garnishing Instructions
---
Serving Instructions
---