Authentic Hungarian Goulash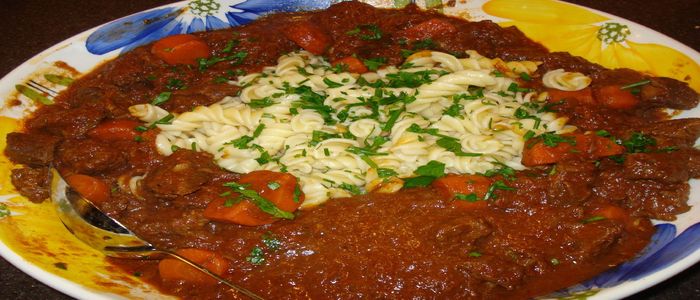 ---
| | | |
| --- | --- | --- |
| Cuisine | : | Hungarian |
| Calories | : | 261 |
| Type | : | Non Vegetarian |
| | | |
| --- | --- | --- |
| Serving Size | : | 6 |
| Course | : | Soup |
| Preparation Time | : | 230 Min |
---
INGREDIENTS
| No | Ingredient | Quantity | Measure Type |
| --- | --- | --- | --- |
| 1 | Butter | 2 | Tablespoon |
| 2 | Garlic | 1 | Clove |
| 3 | Onions | 2 | large |
| 4 | Paprika | 5 | Tablespoon |
| 5 | Water | 2 | Cup |
| 6 | beef flank steak | 2 | Pound |
| 7 | Caraway seed | 1/8 | Teaspoon |
| 8 | Potato | 4 | large |
| 9 | Dried marjoram | 1/4 | Teaspoon |
| 10 | Salt and ground black pepper | 0 | To taste |
---
Recipe Details
The recipe for this hearty, savory soup comes from Katalin Banfalvi, author Carolyn Banfalvi's mother-in-law, who lives in the village of Bony, in northwestern Hungary. Hungarian sweet paprika confers a singularly deep, rich color and flavor.
---
Cooking Instructions
---
Garnishing Instructions
---
Serving Instructions
Season with salt and pepper to taste and serve with rye bread, if you like.
---