Jalapeno Popper Grilled Cheese Sandwich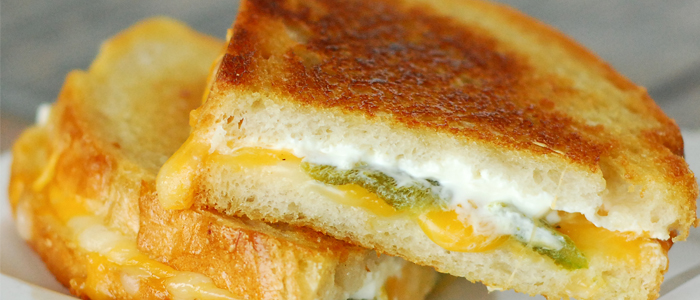 ---
| | | |
| --- | --- | --- |
| Cuisine | : | American |
| Calories | : | 528 |
| Type | : | Vegetarian |
| | | |
| --- | --- | --- |
| Serving Size | : | 2 |
| Course | : | Main |
| Preparation Time | : | 20 Min |
---
INGREDIENTS
| No | Ingredient | Quantity | Measure Type |
| --- | --- | --- | --- |
| 1 | Cream cheese | 2 | Ounces |
| 2 | Sour cream | 1 | Tablespoon |
| 3 | Jalapeno pepper | 10 | |
| 4 | Ciabatta sandwich rolls | 2 | |
| 5 | Butter | 4 | Teaspoon |
| 6 | Tortilla chips | 8 | |
| 7 | Paneer | 1/2 | Cup |
---
Recipe Details
This is an awesome spin on a plain grilled cheese sandwich.The ciabatta bread is not typical grilled cheese material but the crunch of the buttery grilled chewy bread goes perfect with this jalapeno filling. You can also use sourdough bread.
---
Cooking Instructions
Combine the cream cheese, sour cream, and pickled jalapeno in a small bowl. Set aside. Preheat skillet over medium heat.
---
Garnishing Instructions
---
Serving Instructions
To serve hot and cut each sandwich in half.
---