Best Grape salad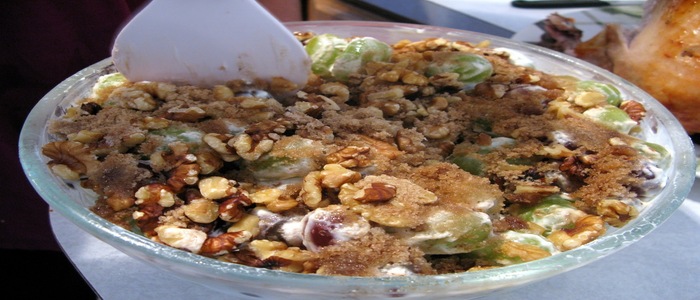 ---
| | | |
| --- | --- | --- |
| Cuisine | : | American |
| Calories | : | 298 |
| Type | : | Vegetarian |
| | | |
| --- | --- | --- |
| Serving Size | : | 15 |
| Course | : | Dessert |
| Preparation Time | : | 10 Min |
---
INGREDIENTS
| No | Ingredient | Quantity | Measure Type |
| --- | --- | --- | --- |
| 1 | Grape | 2 | Lb |
| 2 | Red Seedless grapes | 2 | Lb |
| 3 | Sour cream | 8 | Ounces |
| 4 | Granulated sugar | 1/2 | Cup |
| 5 | Vanilla extract | 1 | Teaspoon |
| 6 | Brown sugar | 1 | Cup |
| 7 | Pecan | 1 | Cup |
---
Recipe Details
This is a wonderful dessert salad that never failed to be a hit. Made the day before the brown sugar makes the sauce taste like caramel. You can use less brown sugar, if you wish.
---
Cooking Instructions
1. Wash and stem grapes.
2.
Set aside.
3.
Mix sour cream, cream cheese, white sugar and vanilla by hand until blended.
4.
Stir grapes into mixture, and pour in large serving bowl.
5. For topping: Combine brown sugar, and crushed pecans.
6.
Sprinkle over top of grapes to cover completely.
7.
Chill overnight.
---
Garnishing Instructions
Sprinkle with brown sugar and pecans.
---
Serving Instructions
Refrigerate until serving.
---