Lamb and Okra Stew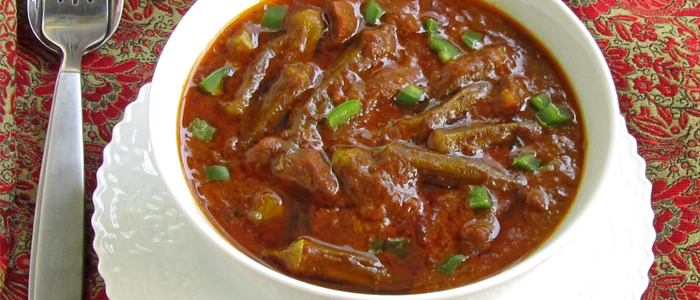 ---
| | | |
| --- | --- | --- |
| Cuisine | : | Middle Eastern |
| Calories | : | 553 |
| Type | : | Non Vegetarian |
| | | |
| --- | --- | --- |
| Serving Size | : | 6 |
| Course | : | Main |
| Preparation Time | : | 65 Min |
---
INGREDIENTS
| No | Ingredient | Quantity | Measure Type |
| --- | --- | --- | --- |
| 1 | Olive oil | 2 | Tablespoon |
| 2 | Garlic | 1/4 | Cup |
| 3 | Lamb meat | 2 | Pound |
| 4 | Ground cumin | 1 | Teaspoon |
| 5 | Mint leaves | 1 | Teaspoon |
| 6 | Turmeric powder | 1 | Teaspoon |
| 7 | Rosemary leaves | 1 | Teaspoon |
| 8 | Tomato | 14 & 1/2 | Ounces |
| 9 | Tomato paste | 2 | Tablespoon |
| 10 | Okra | 1 | Pound |
| 11 | Lemon juice | 1 | Teaspoon |
| 12 | Water | 1 | Cup |
| 13 | Butter | 1 | Tablespoon |
| 14 | Egg noodles | 1 | Cup |
| 15 | Long grain rice | 2 | Cup |
| 16 | Chicken broth | 2 | Cup |
| 17 | Water | 2 | Cup |
| 18 | Salt and pepper | 1 | Pinch |
| 19 | Olive oil | 1 | Teaspoon |
---
Recipe Details
Old Middle Eastern family recipe, one of my favorites. A mildly spiced lamb stew is served over rice pilaf in this homey main dish.
---
Cooking Instructions
Heat olive oil in a large skillet over medium heat. Add the garlic, and cook until transparent. Add the cubed lamb, and cook until browned on all sides. Season with cumin, mint, turmeric and rosemary. Cook for another 5 minutes. Add the diced tomatoes, tomato paste and okra. Combine the lemon juice and water, and stir into the skillet. Cover, and simmer over low heat for 45 minutes.

Meanwhile, melt the butter in a saucepan over medium heat. Add the egg noodles, and saute until toasted. Pour in the chicken broth and water, and bring to a boil. Stir in rice, cover and simmer over low heat until the rice is tender, about 15 minutes.
---
Garnishing Instructions
Not available
---
Serving Instructions
Season with salt and pepper and stir in olive oil before serving. Serve the lamb stew over the rice pilaf.
---
Related Recipes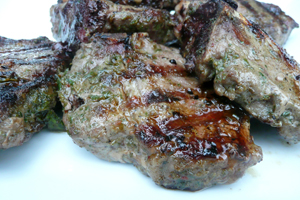 Garlic and Herb Lamb
---
| | | |
| --- | --- | --- |
| Type | :&nbsp&nbsp | Non Vegetarian |
| Calories | :&nbsp&nbsp | 235 |
| Cuisine | :&nbsp&nbsp | Middle Eastern |
| Course | :&nbsp&nbsp | Main |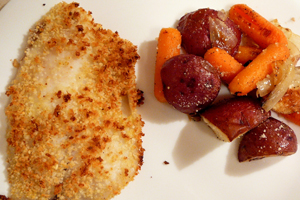 Broiled Parmesan-Lemon Tilapia
---
| | | |
| --- | --- | --- |
| Type | :&nbsp&nbsp | Non Vegetarian |
| Calories | :&nbsp&nbsp | 239 |
| Cuisine | :&nbsp&nbsp | Middle Eastern |
| Course | :&nbsp&nbsp | Main |