Lamb and Asparagus Stew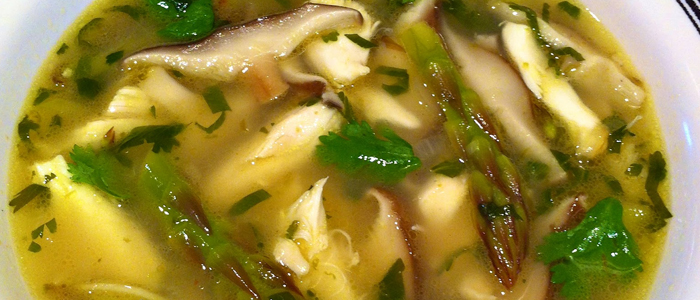 ---
| | | |
| --- | --- | --- |
| Cuisine | : | Middle Eastern |
| Calories | : | 503 |
| Type | : | Non Vegetarian |
| | | |
| --- | --- | --- |
| Serving Size | : | 2 |
| Course | : | Main |
| Preparation Time | : | 55 Min |
---
INGREDIENTS
| No | Ingredient | Quantity | Measure Type |
| --- | --- | --- | --- |
| 1 | Vegetable oil | 3 | Tablespoon |
| 2 | Onion | 1 | |
| 3 | Cubed lamb stew meat | 1/2 | Pound |
| 4 | Salt | 1/2 | Teaspoon |
| 5 | Black pepper | 1/2 | Teaspoon |
| 6 | Ground turmeric | 1 | Tablespoon |
| 7 | Tomato paste | 6 | Ounces |
| 8 | Water | 1 | Cup |
| 9 | Garlic | 1 | Clove |
| 10 | Asparagus | 1 | Bunch |
---
Recipe Details
This Middle Eastern stew can make for some great comfort food. It only takes about half an hour to cook, and it's dead easy. This recipe is mostly Iranian in origin; the Iranians use okra instead of asparagus, but asparagus is much easier to find. If you can get a hold of some fresh okra, then it's easy to substitute.
---
Cooking Instructions
Heat the vegetable oil in a saucepan over medium-high heat. Stir in the onions, and cook for 2 minutes, stirring constantly. Add the lamb, salt, pepper, and turmeric; cook and stir until the lamb is no longer pink on the outside, about 3 minutes. Stir in the tomato paste, water, and garlic. Bring to a simmer, then reduce the heat to medium-low, cover, and simmer until the lamb is tender, about 25 minutes.

Once the lamb is tender, stir in the asparagus, and continue cooking until the asparagus is tender, about 3 minutes.
---
Garnishing Instructions
Not available.
---
Serving Instructions
---
Related Recipes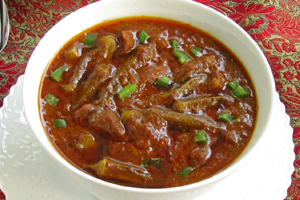 Lamb and Okra Stew
---
| | | |
| --- | --- | --- |
| Type | :&nbsp&nbsp | Non Vegetarian |
| Calories | :&nbsp&nbsp | 553 |
| Cuisine | :&nbsp&nbsp | Middle Eastern |
| Course | :&nbsp&nbsp | Main |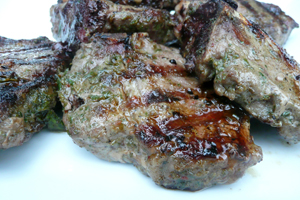 Garlic and Herb Lamb
---
| | | |
| --- | --- | --- |
| Type | :&nbsp&nbsp | Non Vegetarian |
| Calories | :&nbsp&nbsp | 235 |
| Cuisine | :&nbsp&nbsp | Middle Eastern |
| Course | :&nbsp&nbsp | Main |