Garlic and Herb Lamb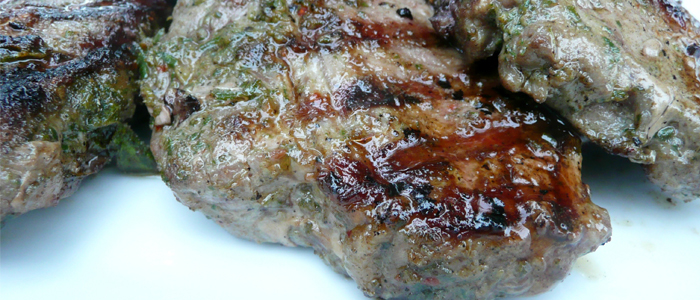 ---
| | | |
| --- | --- | --- |
| Cuisine | : | Middle Eastern |
| Calories | : | 235 |
| Type | : | Non Vegetarian |
| | | |
| --- | --- | --- |
| Serving Size | : | 10 |
| Course | : | Main |
| Preparation Time | : | 125 Min |
---
INGREDIENTS
| No | Ingredient | Quantity | Measure Type |
| --- | --- | --- | --- |
| 1 | Boneless leg of lamb | 5 | Pound |
| 2 | Garlic | 3 | Clove |
| 3 | Dill weed | 3 | Teaspoon |
| 4 | Salt | 1 & 1/2 | Teaspoon |
| 5 | Rosemary leaves | 1 | Teaspoon |
| 6 | Black pepper | 1/2 | Teaspoon |
---
Recipe Details
A quick and easy rosemary rub that truly draws out the succulent flavor of lamb. Works on chops or leg of lamb .
---
Cooking Instructions
Preheat the oven to 325 degrees F (165 degrees C).

Puncture the leg of lamb with the tip of a knife just far enough to insert slivers of garlic into the holes. Mix together the dill, salt and rosemary, and rub over the leg of lamb. Place the lamb, fatty side up, on a rack in a shallow roasting pan.

Roast uncovered for 2 to 2 1/2 hours in the preheated oven, to an internal temperature of 155 degrees F (68 degrees C) for medium. Tent with aluminum foil and let stand for 15 to 20 minutes before carving. The lamb will continue to cook a little bit, and the juices will set up better for carving.
---
Garnishing Instructions
Not available.
---
Serving Instructions
---
Related Recipes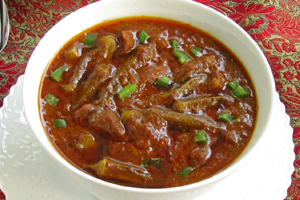 Lamb and Okra Stew
---
| | | |
| --- | --- | --- |
| Type | :&nbsp&nbsp | Non Vegetarian |
| Calories | :&nbsp&nbsp | 553 |
| Cuisine | :&nbsp&nbsp | Middle Eastern |
| Course | :&nbsp&nbsp | Main |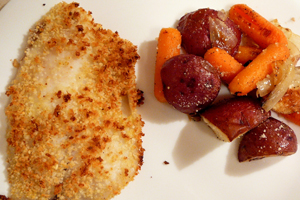 Broiled Parmesan-Lemon Tilapia
---
| | | |
| --- | --- | --- |
| Type | :&nbsp&nbsp | Non Vegetarian |
| Calories | :&nbsp&nbsp | 239 |
| Cuisine | :&nbsp&nbsp | Middle Eastern |
| Course | :&nbsp&nbsp | Main |