Broiled Parmesan-Lemon Tilapia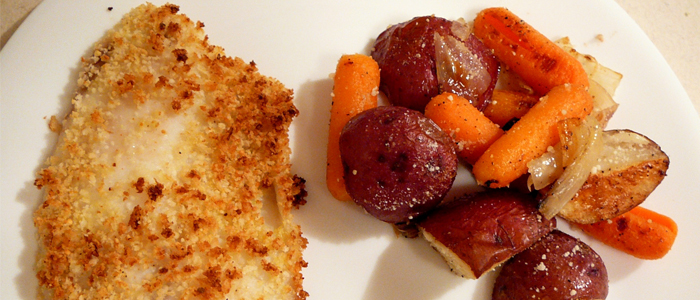 ---
| | | |
| --- | --- | --- |
| Cuisine | : | Middle Eastern |
| Calories | : | 239 |
| Type | : | Non Vegetarian |
| | | |
| --- | --- | --- |
| Serving Size | : | 4 |
| Course | : | Main |
| Preparation Time | : | 25 Min |
---
INGREDIENTS
| No | Ingredient | Quantity | Measure Type |
| --- | --- | --- | --- |
| 1 | Tilapia fillets | 4 | |
| 2 | Miami-style sazon seasoning (sazon completa) | 2 | Tablespoon |
| 3 | Cooking spray | 1 serving | Piece |
| 4 | Parmesan cheese | 1/2 | Cup |
| 5 | Butter | 2 | Tablespoon |
| 6 | Fat-free mayonnaise | 1 & 1/2 | Tablespoon |
| 7 | Lemon juice | 2 | Tablespoon |
| 8 | Lemon zest | 2 | Tablespoon |
| 9 | Basil leaves | 1/8 | Teaspoon |
| 10 | Black pepper | 1/8 | Teaspoon |
| 11 | Onion Powder | 1/8 | Teaspoon |
| 12 | Celery salt | 1/8 | Teaspoon |
---
Recipe Details
Flavorful recipe for this farm raised fish that is easy and done in minutes! The fish is broiled with a creamy cheese coating for an impressive flavor and texture
---
Cooking Instructions
Sprinkle tilapia with sazon seasoning and arrange on the prepared broiler rack.

Mix the Parmesan cheese, butter-margarine blend, fat-free mayonnaise, lemon juice, lemon zest, basil, black pepper, onion powder, and celery salt together in a bowl and set aside.

Cook the fillets under the preheated broiler until fish is barely opaque, 2 to 3 minutes per side. Spread the Parmesan cheese blend over the fish fillets, return to oven, and continue cooking until the topping is golden brown and the fish flakes easily, 3 to 5 more minutes.
---
Garnishing Instructions
Not available
---
Serving Instructions
---
Related Recipes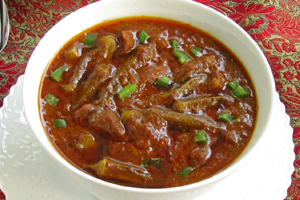 Lamb and Okra Stew
---
| | | |
| --- | --- | --- |
| Type | :&nbsp&nbsp | Non Vegetarian |
| Calories | :&nbsp&nbsp | 553 |
| Cuisine | :&nbsp&nbsp | Middle Eastern |
| Course | :&nbsp&nbsp | Main |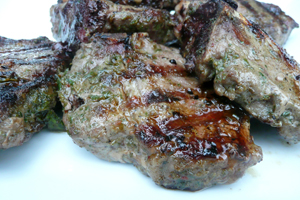 Garlic and Herb Lamb
---
| | | |
| --- | --- | --- |
| Type | :&nbsp&nbsp | Non Vegetarian |
| Calories | :&nbsp&nbsp | 235 |
| Cuisine | :&nbsp&nbsp | Middle Eastern |
| Course | :&nbsp&nbsp | Main |