Thai Pineapple Chicken Curry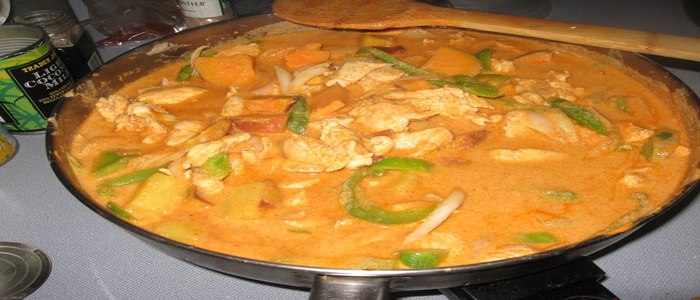 ---
| | | |
| --- | --- | --- |
| Cuisine | : | Thai |
| Calories | : | 337 |
| Type | : | Non Vegetarian |
| | | |
| --- | --- | --- |
| Serving Size | : | 6 |
| Course | : | Main |
| Preparation Time | : | 50 Min |
---
INGREDIENTS
| No | Ingredient | Quantity | Measure Type |
| --- | --- | --- | --- |
| 1 | uncooked jasmine rice | 2 | Cup |
| 2 | White sugar | 0.25000000 | Cup |
| 3 | Red curry paste | 0.25000000 | Cup |
| 4 | Red bell pepper | 0.50000000 | Cup |
| 5 | Green bell pepper | 0.50000000 | Teaspoon |
| 6 | Fish sauce | 3 | Tablespoon |
---
Recipe Details
This is a quick, easy, and authentic Thai curry dish that's sweet and very spicy. I became addicted to the dish at a local restaurant and then worked to duplicate it at home.
---
Cooking Instructions
---
Garnishing Instructions
---
Serving Instructions
Serve
over the cooked rice.
---
Related Recipes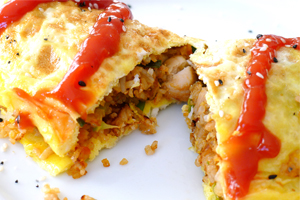 Omuraisu (Japanese Rice Omelet..
---
| | | |
| --- | --- | --- |
| Type | :&nbsp&nbsp | Non Vegetarian |
| Calories | :&nbsp&nbsp | 521 |
| Cuisine | :&nbsp&nbsp | Japanese |
| Course | :&nbsp&nbsp | Main |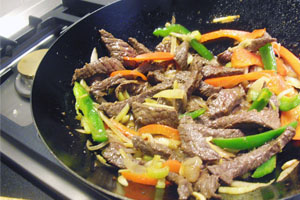 Japanese Beef Stir-Fry
---
| | | |
| --- | --- | --- |
| Type | :&nbsp&nbsp | Non Vegetarian |
| Calories | :&nbsp&nbsp | 290 |
| Cuisine | :&nbsp&nbsp | Japanese |
| Course | :&nbsp&nbsp | Main |