Thai Fried Rice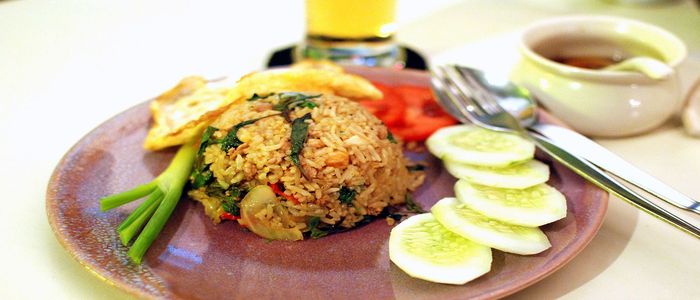 ---
| | | |
| --- | --- | --- |
| Cuisine | : | Thai |
| Calories | : | 265 |
| Type | : | Eggetarian |
| | | |
| --- | --- | --- |
| Serving Size | : | 4 |
| Course | : | Main |
| Preparation Time | : | 10 Min |
---
INGREDIENTS
| No | Ingredient | Quantity | Measure Type |
| --- | --- | --- | --- |
| 1 | Vegetable oil | 2 | Tablespoon |
| 2 | Onions | 0.50000000 | cup chopped |
| 3 | Garlic | 1 | Clove |
| 4 | Chicken boneless | 0.25000000 | Pound |
| 5 | Assorted vegetable | 0.50000000 | Cup |
| 6 | steamed rice | 3 | Cup |
| 7 | Egg | 1 | Piece |
| 8 | Fish sauce | 1 | Tablespoon |
| 9 | thai chilli sauce | 2 | Tablespoon |
---
Recipe Details
Thai fried rice is a variety of fried rice typical of central Thai cuisine. In Thai, khao means "rice" and phat means "of or relating to being stir-fried".
---
Cooking Instructions
HEAT 1 tablespoon of the oil in large skillet on medium-high heat. Add onion and garlic; stir fry about 30 seconds or until garlic is lightly browned. Add meat and vegetables; stir fry 3 minutes or until meat is cooked through.
STIR in rice, chili sauce and fish sauce; stir fry 3 minutes or until rice is heated through. Push rice mixture to side of skillet. Add remaining 1 tablespoon oil to middle of skillet. Add egg; scramble until set. Stir into rice mixture
---
Garnishing Instructions
Garnished with spring onion greens.
---
Serving Instructions
---