Potato Salad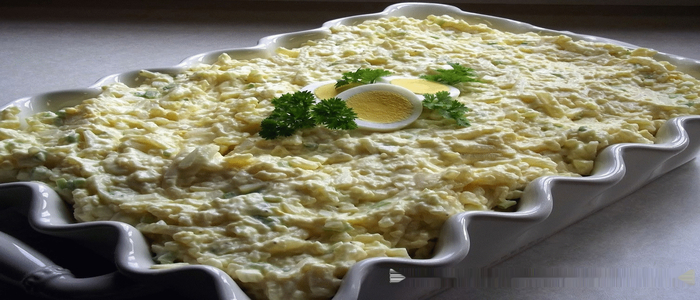 ---
| | | |
| --- | --- | --- |
| Cuisine | : | American |
| Calories | : | 330 |
| Type | : | Eggetarian |
| | | |
| --- | --- | --- |
| Serving Size | : | 8 |
| Course | : | Salad |
| Preparation Time | : | 70 Min |
---
INGREDIENTS
| No | Ingredient | Quantity | Measure Type |
| --- | --- | --- | --- |
| 1 | Red potatoes | 4 | Lb |
| 2 | boiled egg | 5 | Piece |
| 3 | Salt | 1 | Teaspoon |
| 4 | Green onion | 3 | Piece |
| 5 | Mayonnaise | 1 | Cup |
| 6 | sweet pickle relish | 2 | Tablespoon |
| 7 | Prepared mustard | 1 | Tablespoon |
| 8 | pepper | 1/2 | Teaspoon |
| 9 | Mustard seeds | 1/2 | Teaspoon |
---
Recipe Details
Potato salad is a dish made from boiled potatoes that comes in many versions in different regions of the world. Though called a salad, it is generally a side dish, as it usually accompanies the main course.
---
Cooking Instructions
1. Cook potatoes in boiling water to cover 40 minutes or until tender; drain and cool.
2.
Peel potatoes and cut into 1 inch pieces.
3.
Chop egg whites.
4.
In a large bowl, stir together potato, egg whites, 1/2 t. salt and green onions.
5.
Using a fork, mash the yolks in a small bowl; add in remaining 1/2 t. salt, mayo, pickle relish, mustard, pepper, and celery seed; stirring until well blended.
6.
Gently stir yolk mixture into potato mixture; adjust seasoning to taste with salt and pepper.
7.
Cover and chill 2 hours (it is even better if you can chill this overnight and serve the next day).
---
Garnishing Instructions
Garnish with boiled egg and chopped coriander.
---
Serving Instructions
Serve cold or at room temperature.
---