Pashka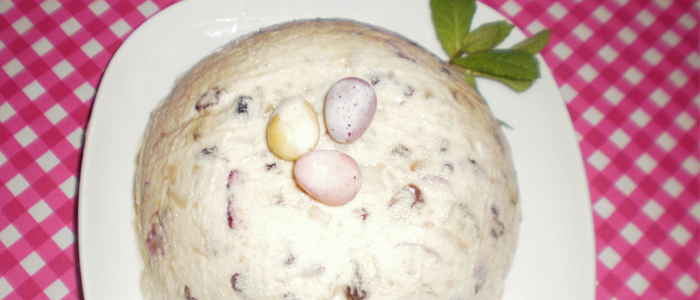 ---
| | | |
| --- | --- | --- |
| Cuisine | : | Russian |
| Calories | : | 401 |
| Type | : | Vegetarian |
| | | |
| --- | --- | --- |
| Serving Size | : | 10 |
| Course | : | Dessert |
| Preparation Time | : | 510 Min |
---
INGREDIENTS
| No | Ingredient | Quantity | Measure Type |
| --- | --- | --- | --- |
| 1 | Cream cheese | 8 | Ounces |
| 2 | Cottage cheese | 8 | Ounces |
| 3 | Butter | 1/4 | Cup |
| 4 | Sour cream | 8 | Ounces |
| 5 | Almonds | 1/2 | Cup |
| 6 | Currants | 1/2 | Cup |
| 7 | Vanilla extract | 1 | Teaspoon |
| 8 | Lemon extract | 1/4 | Teaspoon |
| 9 | White sugar | 1 | Cup |
---
Recipe Details
Pashka is a cheese cake-like dessert or breakfast food that is usually eaten with thick-crusted breads, but I like it plain, too. Though no cooking is needed, it does chill over night. My Bestemor has made this for me since I was a child and I have always loved it!
---
Cooking Instructions
---
Garnishing Instructions
Not available.
---
Serving Instructions
Refrigerate before serving.
---