Moroccan Chicken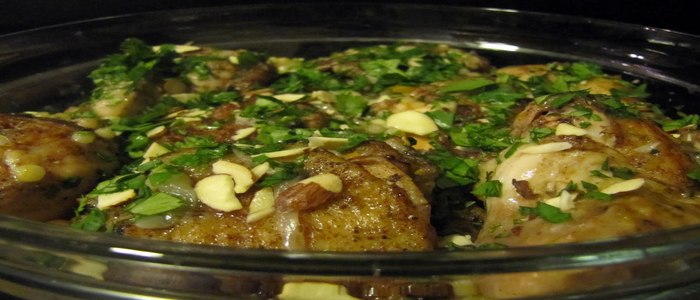 ---
| | | |
| --- | --- | --- |
| Cuisine | : | Moroccan |
| Calories | : | 370 |
| Type | : | Non Vegetarian |
| | | |
| --- | --- | --- |
| Serving Size | : | 6 |
| Course | : | Main |
| Preparation Time | : | 60 Min |
---
INGREDIENTS
| No | Ingredient | Quantity | Measure Type |
| --- | --- | --- | --- |
| 1 | skinless chicken casserole peices | 1.5 | Kg |
| 2 | Onions | 1 | diced |
| 3 | Garlic | 2 | Clove |
| 4 | Ground cinnamon | 1 | Teaspoon |
| 5 | Ground ginger | 1 | Teaspoon |
| 6 | Ground cumin | 1 | Teaspoon |
| 7 | Green cardamoms | 1/4 | Teaspoon |
| 8 | Crushed saffron threads | 1 | Pinch |
| 9 | Tomato | 6 | diced |
| 10 | Chicken stock | 250 | Ml |
| 11 | Salt and ground black pepper | 0 | As required |
| 12 | Honey | 2 | Tablespoon |
| 13 | blanched slivered almonds | 2 | Tablespoon |
| 14 | Coriander leaves | 1/2 | Cup |
| 15 | Pearl (Israeli) couscous | 1/2 | Cup |
---
Recipe Details
Spices, spices, spices! This recipe is thick with 'em, and your taste buds will be thick with pleasure from Moroccan Chicken. This exotic tasting dish is a definite crowd pleaser!
---
Cooking Instructions
Heat a heavy-based saucepan over a medium–high heat. Add a generous splash of oil and cook the chicken pieces until golden brown all over. This may need to be done in batches. Remove the chicken and set aside.
Return the pan to the heat. Add more oil, if necessary, and cook the onion for 3–4 minutes, stirring often, until soft. Add the garlic, cinnamon, ginger, cumin, cardamom and saffron. Cook for 1–2 minutes, then add the diced tomatoes. Lower the heat and cook for 5 minutes, stirring occasionally. Raise the heat, add the stock and chicken and bring to the boil. Season with salt and pepper. Reduce the heat and simmer for 30–40 minutes, or until the chicken is cooked.
Remove the chicken pieces and set them aside to keep warm. Raise the heat under the saucepan and reduce the cooking liquid until it's the consistency of thick cream. Add the honey and continue to cook for 5–6 minutes, stirring often, until it's reduced and like jam.
Check seasoning, add orange-blossom water and return the chicken to the pan to heat through.
Scatter the chicken with almonds and coriander. Serve with couscous.
---
Garnishing Instructions
Scatter the chicken with almonds and coriander.
---
Serving Instructions
---