Broccoli Salad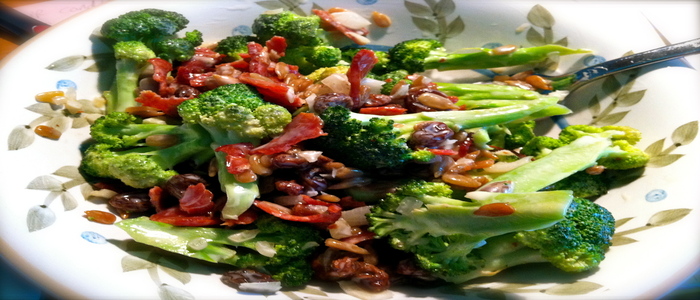 ---
| | | |
| --- | --- | --- |
| Cuisine | : | American |
| Calories | : | 356 |
| Type | : | Non Vegetarian |
| | | |
| --- | --- | --- |
| Serving Size | : | 6 |
| Course | : | Salad |
| Preparation Time | : | 15 Min |
---
INGREDIENTS
| No | Ingredient | Quantity | Measure Type |
| --- | --- | --- | --- |
| 1 | Broccoli | 1 | Head |
| 2 | Red Onion | 1/2 | Cup |
| 3 | Bacon | 1/2 | Lb |
| 4 | Vinegar | 2 | Tablespoon |
| 5 | hellmann's mayonnaise | 1 | Cup |
| 6 | Sugar | 1/3 | Cup |
| 7 | Mozzarella cheese | 1 | Cup |
---
Recipe Details
his is a yummy summer salad that uses an interesting combination of fruits, vegetables and meats. Before you decide you won't like it, try it. You'll be pleasantly surprised. You can add an extra head of broccoli, if you like.
---
Cooking Instructions
Trim off the large leaves from the broccoli stem. Remove the tough stalk at the end and wash broccoli head thoroughly. Cut the head into flowerets and the stem into bite-size pieces. Place in a large bowl. Add the crumbled bacon, onion, raisins if using, and cheese. In a small bowl, combine the remaining ingredients, stirring well. Add to broccoli mixture and toss gently.



---
Garnishing Instructions
Garnish.
---
Serving Instructions
---