Tiny Cinnamon Rolls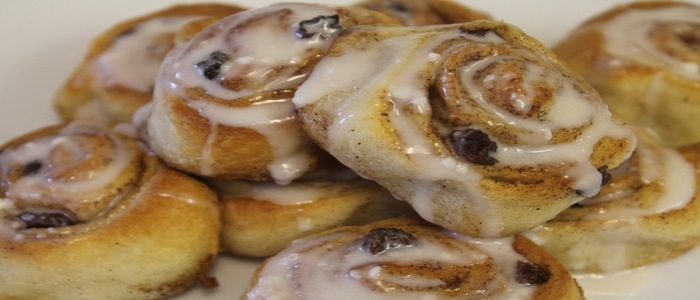 ---
| | | |
| --- | --- | --- |
| Cuisine | : | American |
| Calories | : | 44 |
| Type | : | Vegetarian |
| | | |
| --- | --- | --- |
| Serving Size | : | 20 |
| Course | : | Appetizer |
| Preparation Time | : | 42 Min |
---
INGREDIENTS
| No | Ingredient | Quantity | Measure Type |
| --- | --- | --- | --- |
| 1 | Refrigerated crescent dinner rolls | 8 | Ounces |
| 2 | Sugar | 1 | Teaspoon |
| 3 | Ground cinnamon | 1/2 | Teaspoon |
| 4 | Powdered sugar | 1/3 | Cup |
| 5 | Milk | 1 | Teaspoon |
| 6 | Vanilla Essence | 1 | Drops |
---
Recipe Details
If you need a holiday breakfast in a hurry, these mini cinnamon rolls are the perfect choice. The secret shortcut is using refrigerated crescent rolls.
---
Cooking Instructions
1. Unroll dough, and separate into 4 rectangles; pinch seams together.
2.
Stir together sugar and cinnamon; sprinkle evenly over rectangles.
3.
Roll up jellyroll fashion, starting with a long side; press edges to seal.
4.
Cut each log into 5 slices and place slices, cut side down in a lightly greased 8-inch round cakepan.
5.
Bake at 350 degrees for 12 minutes.
6.
Stir together powdered sugar, milk, and vanilla in a small bowl until smooth; drizzle over warm rolls.
---
Garnishing Instructions
Drizzle vanilla over warm rolls.
---
Serving Instructions
---