Sweet chilli dogs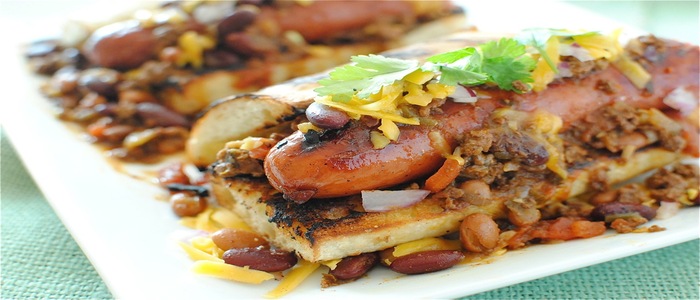 ---
| | | |
| --- | --- | --- |
| Cuisine | : | American |
| Calories | : | 331 |
| Type | : | Vegetarian |
| | | |
| --- | --- | --- |
| Serving Size | : | 4 |
| Course | : | Appetizer |
| Preparation Time | : | 35 Min |
---
INGREDIENTS
| No | Ingredient | Quantity | Measure Type |
| --- | --- | --- | --- |
| 1 | fat sausages | 4 | Piece |
| 2 | Onions | 2 | Piece |
| 3 | Sweet chili sauce | 4 | Tablespoon |
| 4 | Tomato puree | 2 | Tablespoon |
| 5 | Hot Dog bun | 4 | Piece |
---
Recipe Details
Split the
hot buns
, add a spoonful of the sweet
chili
,onions, top with a sausage.
---
Cooking Instructions
Heat oven to 220C/200C fan/gas 7. Spread the sausages in a roasting tin and cook for 20-25 mins, turning, until golden and cooked through.

Meanwhile, fry the onions in a splash of oil over a high heat until almost softened and browning. Stir in the sweet chilli sauce and tomato purée with some seasoning, and cook for 1 min more.

Split the hot dog buns, add a spoonful of the sweet chilli onions, top with a sausage, then a spoonful more onions.
---
Garnishing Instructions
Garnish with chopped coriander.
---
Serving Instructions
To serve, put a dog in each roll and top with the chili and some Cheddar.

---