Couscous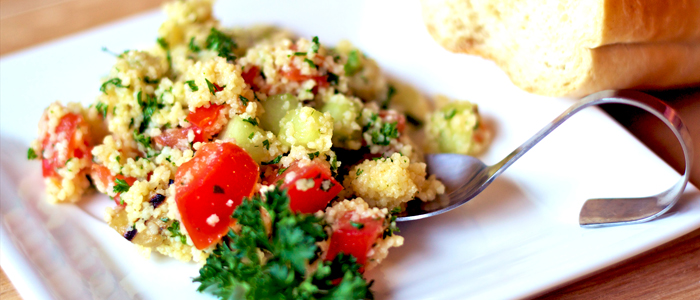 ---
| | | |
| --- | --- | --- |
| Cuisine | : | Greek |
| Calories | : | 254 |
| Type | : | Non Vegetarian |
| | | |
| --- | --- | --- |
| Serving Size | : | 3 |
| Course | : | Main |
| Preparation Time | : | 45 Min |
---
INGREDIENTS
| No | Ingredient | Quantity | Measure Type |
| --- | --- | --- | --- |
| 1 | Chicken broth | 1/4 | Cup |
| 2 | Water | 1/2 | Cup |
| 3 | Garlic | 1 | Teaspoon |
| 4 | Pearl (Israeli) couscous | 1/2 | Cup |
| 5 | Sun-dried tomatoes | 1/4 | Cup |
| 6 | Kalamata olives | 1/4 | Cup |
| 7 | Feta cheese | 2 | Tablespoon |
| 8 | Black pepper | 1/2 | Teaspoon |
| 9 | White wine vinegar | 1 | Tablespoon |
| 10 | Lemon juice | 1 & 1/2 | Teaspoon |
---
Recipe Details
Couscous is a traditional Berber dish of semolina which is cooked by steaming. It is traditionally served with a meat or vegetable stew spooned over it.
---
Cooking Instructions
Pour the chicken broth and water into a saucepan, stir in the garlic, and bring to a boil. Stir in the couscous, cover the pan, and remove from heat. Allow the couscous to stand until all the water has been absorbed, about 5 minutes; fluff with a fork. Allow the couscous to cool to warm temperature.
---
Garnishing Instructions
Not available.
---
Serving Instructions
In a large serving bowl, lightly toss the couscous, sun-dried tomatoes, olives, feta cheese, and garbanzo beans. Mix the oregano, black pepper, white wine vinegar, and lemon juice in a small bowl, and pour over the couscous mixture. Toss again to serve.
---
Related Recipes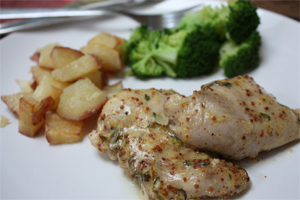 Greek Chicken
---
| | | |
| --- | --- | --- |
| Type | :&nbsp&nbsp | Non Vegetarian |
| Calories | :&nbsp&nbsp | 412 |
| Cuisine | :&nbsp&nbsp | Greek |
| Course | :&nbsp&nbsp | Main |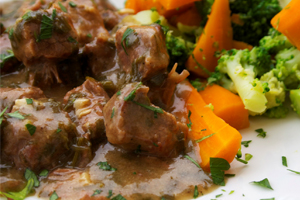 Sofrito (Greek Lamb Recipe)
---
| | | |
| --- | --- | --- |
| Type | :&nbsp&nbsp | Non Vegetarian |
| Calories | :&nbsp&nbsp | 330 |
| Cuisine | :&nbsp&nbsp | Greek |
| Course | :&nbsp&nbsp | Main |