Jan Hagel Cookies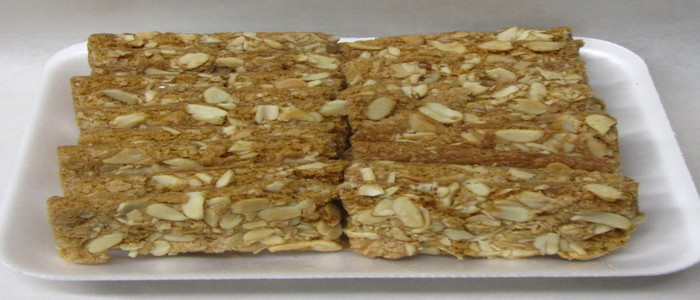 ---
| | | |
| --- | --- | --- |
| Cuisine | : | Dutch |
| Calories | : | 165 |
| Type | : | Eggetarian |
| | | |
| --- | --- | --- |
| Serving Size | : | 12 |
| Course | : | Appetizer |
| Preparation Time | : | 45 Min |
---
INGREDIENTS
| No | Ingredient | Quantity | Measure Type |
| --- | --- | --- | --- |
| 1 | Butter | 1 | Cup |
| 2 | Egg yolks | 1 | Piece |
| 3 | White sugar | 1 | Cup |
| 4 | Egg whites | 1 | Piece |
| 5 | All-purpose flour | 2 | Cup |
| 6 | Walnut | 1 | Cup |
| 7 | Ground cinnamon | 1/2 | Teaspoon |
---
Recipe Details
Jan Hagel cookies are traditionally eaten at Christmas time in Holland. They can be cut into squares, rectangles or diamond shapes, but I actually really like cutting them into fingers to serve with ice cream, mousse or sabayon, or in fact, with a good old cuppa coffee.
---
Cooking Instructions
---
Garnishing Instructions
Sprinkle the nuts over the top.
---
Serving Instructions
---