vegetable cutlets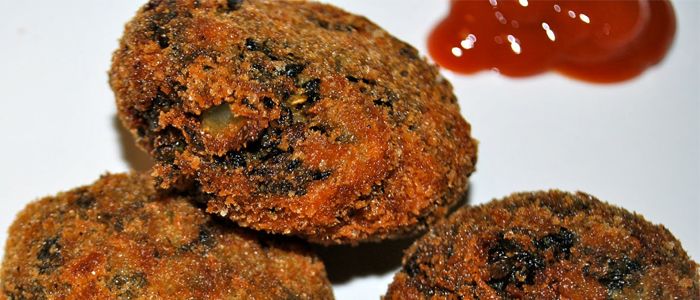 ---
| | | |
| --- | --- | --- |
| Cuisine | : | Indian |
| Calories | : | 120 |
| Type | : | Vegetarian |
| | | |
| --- | --- | --- |
| Serving Size | : | 6 |
| Course | : | Appetizer |
| Preparation Time | : | 40 Min |
---
INGREDIENTS
| No | Ingredient | Quantity | Measure Type |
| --- | --- | --- | --- |
| 1 | Potato | 300 | Gms |
| 2 | Carrot | 100 | Gms |
| 3 | Cauliflower | 100 | Gms |
| 4 | Green peas | 50 | Gms |
| 5 | French beans | 50 | Gms |
| 6 | Coriander | 1/2 | |
| 7 | Corn flour | 3 to 4 | Tablespoon |
| 8 | Red chilli powder | 2 | Teaspoon |
| 9 | Salt | to taste | |
| 10 | Ginger-garlic paste | 1 | Teaspoon |
| 11 | Dried bread crumbs | 1/2 | Cup |
---
Recipe Details
Deep fried patties for indulgence....served with tomato ketchup will make you ask for more.
---
Cooking Instructions
Pressure cook potatoes with a little salt
cut the carrots,beans and cauliflower to very small pieces and parboil with green peas adding salt and the red chilli powder.
when the vegetables are cooked and dry,mash the potatoes and mix with rest of the vegetables.
add ginger garlic paste and chopped coriander and 2tsp of cornflour.
mix well to make dough like and make small patties and keep aside.
stir in cornflour with water to make a thick consistency.
dip the patties and toss into bread crumbs and deep fry.
---
Garnishing Instructions
Not available.
---
Serving Instructions
Serve hot with tomato ketchup.
---
Related Recipes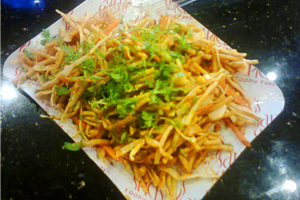 Noodle Bhel
---
| | | |
| --- | --- | --- |
| Type | :&nbsp&nbsp | Vegetarian |
| Calories | :&nbsp&nbsp | 73 |
| Cuisine | :&nbsp&nbsp | Indian |
| Course | :&nbsp&nbsp | Appetizer |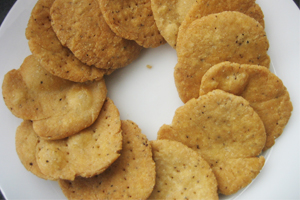 Mathri (Materi)
---
| | | |
| --- | --- | --- |
| Type | :&nbsp&nbsp | Vegetarian |
| Calories | :&nbsp&nbsp | 30 |
| Cuisine | :&nbsp&nbsp | Indian |
| Course | :&nbsp&nbsp | Appetizer |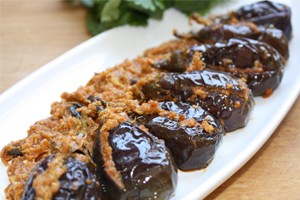 Stuffed Brinjal
---
| | | |
| --- | --- | --- |
| Type | :&nbsp&nbsp | Vegetarian |
| Calories | :&nbsp&nbsp | 163 |
| Cuisine | :&nbsp&nbsp | Indian |
| Course | :&nbsp&nbsp | Appetizer |