Wonton Soup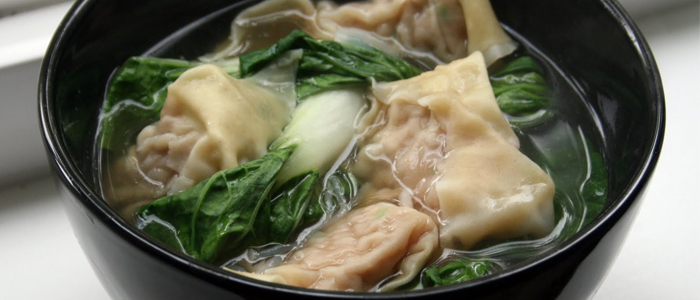 ---
| | | |
| --- | --- | --- |
| Cuisine | : | Chinese |
| Calories | : | 181 |
| Type | : | Non Vegetarian |
| | | |
| --- | --- | --- |
| Serving Size | : | 2 |
| Course | : | Soup |
| Preparation Time | : | 25 Min |
---
INGREDIENTS
| No | Ingredient | Quantity | Measure Type |
| --- | --- | --- | --- |
| 1 | Carrot | 1 | |
| 2 | Meat of your choice | | |
| 3 | Scallion | 1 | |
| 4 | Wonton wrappers | 12 | |
| 5 | Chicken broth | 14 & 1/2 | Ounces |
| 6 | Broccoli | 1 | Cup |
---
Recipe Details
Won ton soup
- The name won ton means swallowing a cloud, and the
wanton
floating in this popular soup are thought to resemble clouds.
---
Cooking Instructions
Combine the meat from the sparerib, the carrot and the scallions in a small bowl. Make wontons by placing a tablespoon of filling in the center of each wrapper. Dampen the edges with water, then fold in half, point to point, and pinch together. Wrap the outside corners around and seal together.
Heat the chicken broth in a medium saucepan over medium heat. When the broth has come to a simmer, add the wontons and the broccoli. Cook for 3 minutes.
---
Garnishing Instructions
Sweet and Stick Spareribs with Fried Noodles.
---
Serving Instructions
Ladle into serving bowls and serve hot.
---
Related Recipes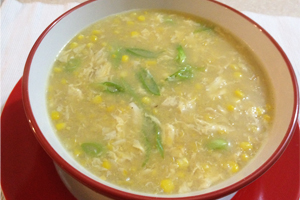 Chinese Creamy Corn Soup
---
| | | |
| --- | --- | --- |
| Type | :&nbsp&nbsp | Non Vegetarian |
| Calories | :&nbsp&nbsp | 157 |
| Cuisine | :&nbsp&nbsp | Chinese |
| Course | :&nbsp&nbsp | Soup |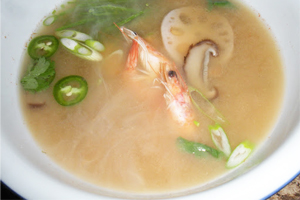 Chinese Shrimp and Tofu Soup
---
| | | |
| --- | --- | --- |
| Type | :&nbsp&nbsp | Non Vegetarian |
| Calories | :&nbsp&nbsp | 99 |
| Cuisine | :&nbsp&nbsp | Chinese |
| Course | :&nbsp&nbsp | Soup |