Wiener Schnitzel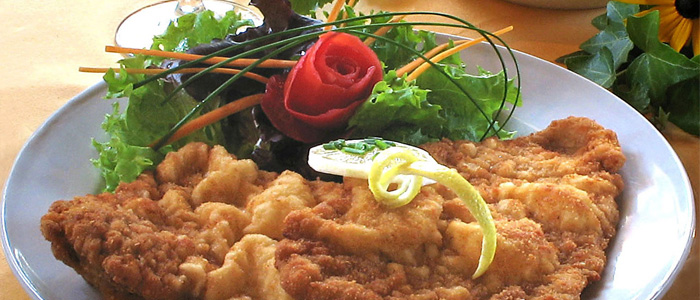 ---
| | | |
| --- | --- | --- |
| Cuisine | : | Polish |
| Calories | : | 750 |
| Type | : | Non Vegetarian |
| | | |
| --- | --- | --- |
| Serving Size | : | 4 |
| Course | : | Main |
| Preparation Time | : | 30 Min |
---
INGREDIENTS
| No | Ingredient | Quantity | Measure Type |
| --- | --- | --- | --- |
| 1 | Chicken boneless | 1 | Lb |
| 2 | Lemon juice | 2 | Teaspoon |
| 3 | Parsley flakes | 1 | Tablespoon |
| 4 | Egg | 1 | |
| 5 | Dried bread crumbs | 1 | Cup |
---
Recipe Details
Wiener Schnitzel
is a very thin, breaded and deep fried schnitzel from veal. It belongs to the best known specialities of Viennese cuisine.
---
Cooking Instructions
Pound meat until it is less than 1/4 inch thick.

Into a large skillet, pour oil approximately 1/4-inch deep; heat until oil bubbles when you drop in a pinch of breadcrumbs

.

Beat egg, add:1 tsp. lemon juice.

Add parsley to breadcrumbs.

Dredge meat in egg, then breadcrumb mixture; fry until golden brown on each side.

Sprinkle with remaining lemon juice.
---
Garnishing Instructions
Garnish with parsley and lemon.
---
Serving Instructions
To serve, wiener schnitzel with the parsley and lemon wedges.
---