Vegetarian Quesadillas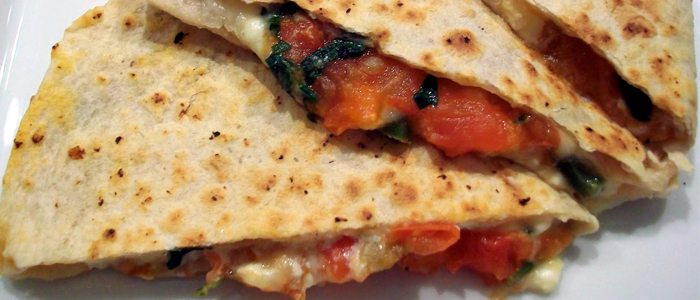 ---
| | | |
| --- | --- | --- |
| Cuisine | : | Mexican |
| Calories | : | 209 |
| Type | : | Vegetarian |
| | | |
| --- | --- | --- |
| Serving Size | : | 6 |
| Course | : | Main |
| Preparation Time | : | 15 Min |
---
INGREDIENTS
| No | Ingredient | Quantity | Measure Type |
| --- | --- | --- | --- |
| 1 | Red bell pepper | 1/2 | Cup |
| 2 | Zucchini | 1/2 | Cup |
| 3 | Yellow squash | 1/2 | Cup |
| 4 | Red Onion | 1/2 | Cup |
| 5 | Mushrooms | 1/2 | Cup |
| 6 | Olive oil | 1 | Tablespoon |
| 7 | Cooking spray | | |
| 8 | Whole wheat tortillas | 6 | |
| 9 | Cheddar cheese | 1& 1/4 | Cup |
---
Recipe Details
Making the most of simple, fresh ingredients found at your local Farmer's Market, these quesadillas make great appetizers or a quick and healthy meal. Serve while hot with your favorite salsa, sour cream, and guacamole.
---
Cooking Instructions
In a large nonstick pan, cook red pepper, zucchini, yellow squash, onion, and mushrooms in olive oil over medium to medium-high heat for about 7 minutes, or until just tender. Remove vegetables from pan.

Coat the same pan with cooking spray, and place one tortilla in pan. Sprinkle 1/4 cup of cheese evenly over tortilla, and layer 3/4 cup of the vegetable mixture over the cheese. Sprinkle another 1/8 cup of cheese on the vegetables, and top with a second tortilla. Cook until golden on both sides, for approximately 2 to 3 minutes per side. Remove quesadilla from pan, and repeat with remaining ingredients.
---
Garnishing Instructions
Cut each quesadilla into 8 triangles with a pizza cutter.
---
Serving Instructions
---
Related Recipes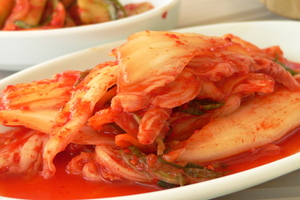 Spicy Cabbage Kimchi
---
| | | |
| --- | --- | --- |
| Type | :&nbsp&nbsp | Vegetarian |
| Calories | :&nbsp&nbsp | 15 |
| Cuisine | :&nbsp&nbsp | Korean |
| Course | :&nbsp&nbsp | Main |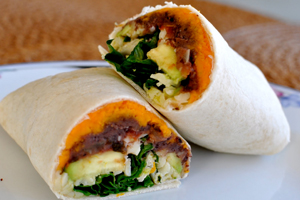 Sweet Potato Burritos
---
| | | |
| --- | --- | --- |
| Type | :&nbsp&nbsp | Vegetarian |
| Calories | :&nbsp&nbsp | 505 |
| Cuisine | :&nbsp&nbsp | Mexican |
| Course | :&nbsp&nbsp | Main |