Upama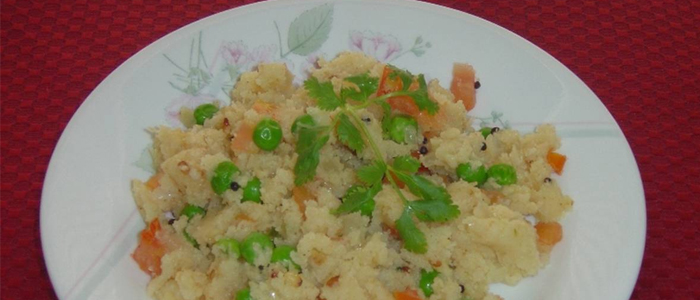 ---
| | | |
| --- | --- | --- |
| Cuisine | : | Indian |
| Calories | : | 248 |
| Type | : | Vegetarian |
| | | |
| --- | --- | --- |
| Serving Size | : | 4 |
| Course | : | Main |
| Preparation Time | : | 30 Min |
---
INGREDIENTS
| No | Ingredient | Quantity | Measure Type |
| --- | --- | --- | --- |
| 1 | Rava/soji | 1 | Cup |
| 2 | Onion | 1 | |
| 3 | Green peas | 1/2 | Cup |
| 4 | Curry leaves | 4 to 5 | |
| 5 | Boiling water | 2 | Cup |
| 6 | Salt | to taste | |
| 7 | Vegetable oil | 4 to 5 | Tablespoon |
| 8 | Coriander leaves | | |
| 9 | Lemon | 1 | |
| 10 | Ginger | 1/2 | |
| 11 | Tomato | 1 | |
| 12 | Green chiliy | 3 to 4 | |
| 13 | Sugar | to taste | |
| 14 | Mustard seeds | 1/2 | Teaspoon |
| 15 | Cumin seed | 1/2 | Teaspoon |
| 16 | Urad dal | 1 | Tablespoon |
---
Recipe Details
Upma
is a hot favorite breakfast food! Originally from South India, this tasty dish can be eaten for breakfast,
brunch or as a snack and is so wholesome you can even make a meal of it!
---
Cooking Instructions
Roast rava on medium heat till you get the smell of roasted rava and keep it aside.

Heat oil in a pan; add mustard seeds, cumin seeds, ginger followed by urad dal.

Add green chilies and curry leaves.

Now add chopped onion and fry till onion turns pink or transparent, put green peas,

Add chopped tomatoes. Fry till tomato becomes tender enough.

Add water and salt, sugar to taste

Now put roasted rava.

Mix it well and cover up. Cook till all water gets absorb.

Stir in between.

Switch of the heat.
---
Garnishing Instructions
Garnish upama with coriander and coconut.
---
Serving Instructions
Serve upma hot with slices of lime or coconut chutney
or lime pickle.
---
Related Recipes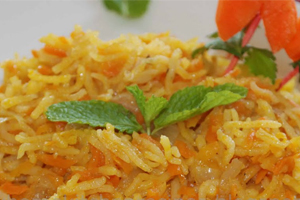 Carrot Rice
---
| | | |
| --- | --- | --- |
| Type | :&nbsp&nbsp | Vegetarian |
| Calories | :&nbsp&nbsp | 179 |
| Cuisine | :&nbsp&nbsp | Indian |
| Course | :&nbsp&nbsp | Main |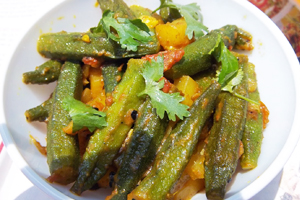 Indian Style Okra
---
| | | |
| --- | --- | --- |
| Type | :&nbsp&nbsp | Vegetarian |
| Calories | :&nbsp&nbsp | 126 |
| Cuisine | :&nbsp&nbsp | Indian |
| Course | :&nbsp&nbsp | Main |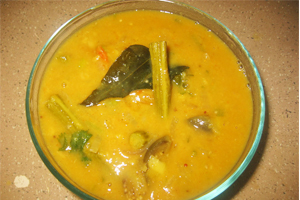 Sambar
---
| | | |
| --- | --- | --- |
| Type | :&nbsp&nbsp | Vegetarian |
| Calories | :&nbsp&nbsp | 306 |
| Cuisine | :&nbsp&nbsp | Indian |
| Course | :&nbsp&nbsp | Main |