Ukha (Russian Fish Soup)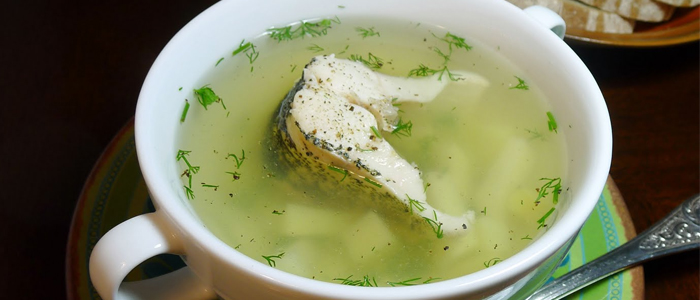 ---
| | | |
| --- | --- | --- |
| Cuisine | : | Russian |
| Calories | : | 127 |
| Type | : | Non Vegetarian |
| | | |
| --- | --- | --- |
| Serving Size | : | 4 |
| Course | : | Soup |
| Preparation Time | : | 30 Min |
---
INGREDIENTS
| No | Ingredient | Quantity | Measure Type |
| --- | --- | --- | --- |
| 1 | Water | 4 | Cup |
| 2 | Potato | 2 | |
| 3 | Onion | 1 | |
| 4 | Parsley | 1 | Bunch |
| 5 | Cod fillets | 4 | Ounces |
| 6 | Lemon juice | 1 | |
| 7 | Salt and pepper | to taste | |
---
Recipe Details
Wonderful fish soup. Very popular in Russia and easy to make. Try it with pike, perch or salmon.
---
Cooking Instructions
Put water in a large saucepan and bring to a boil over high heat. Add the potatoes, onion and parsley. Heat for 10 to 15 minutes and add the fish. Heat for 10 more minutes, then squeeze in lemon juice and season with salt and pepper to taste.
---
Garnishing Instructions
Not available.
---
Serving Instructions
Serve in heated bowls with fresh dill or chopped chives or green onions, if desired. Traditionally, fish soup would be served with mini fish dumplings or mini fish pies.
---