Tiramisu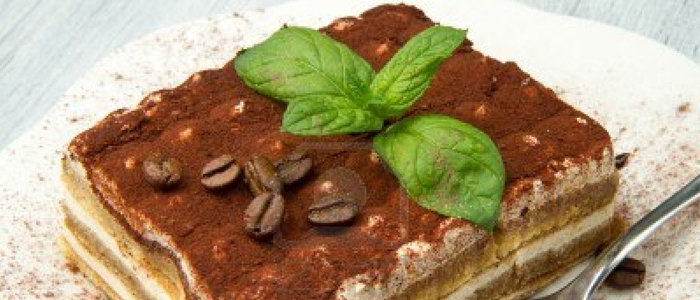 ---
| | | |
| --- | --- | --- |
| Cuisine | : | Italian |
| Calories | : | 492 |
| Type | : | Eggetarian |
| | | |
| --- | --- | --- |
| Serving Size | : | 8 |
| Course | : | Dessert |
| Preparation Time | : | 135 Min |
---
INGREDIENTS
| No | Ingredient | Quantity | Measure Type |
| --- | --- | --- | --- |
| 1 | Egg yolks | 7 | |
| 2 | Sugar | 1/2 | Cup |
| 3 | Mascarpone cheese | 8 | Ounces |
| 4 | Heavy cream | 1 | Cup |
| 5 | Dark chocolate | 1 | Ounces |
| 6 | Natural vanilla extract | 1 | Teaspoon |
| 7 | Lady fingers | 48 | |
| 8 | Unsweetened cocoa powder | 1/4 | Cup |
---
Recipe Details
Tiramisu is a popular coffee-flavoured Italian dessert. It is made of ladyfingers dipped in coffee, layered with a whipped mixture of egg yolks, egg whites, sugar and mascarpone cheese, flavoured with cocoa.
---
Cooking Instructions
Cream together egg yolks and sugar in a heatproof bowl set over a pot of simmering water. Add 1/3 cup of the marsala and continue to whisk until mixture is thick and doubled in volume. This is basically a zabaglione. Remove from heat. Stir in the mascarpone until completely blended.

In a chilled bowl, whip the heavy cream to soft peaks. Fold the whipped cream into the mascarpone mixture, to lighten.

In a small saucepan, combine espresso, chocolate, rum, vanilla, and remaining 2 tablespoons marsala. Heat gently, and stir to dissolve the chocolate. Then, chill the mixture to cool it down, about 15 minutes. Quickly dip each ladyfinger in the chilled coffee mixture and arrange in a single layer on a 9 by 13-inch glass baking pan. Do not soak the cookies or they will become too moist. Spread 1/2 the mascarpone cream evenly with a spatula on top of the dipped ladyfingers. Repeat with a second layer of dipped ladyfingers and remaining mascarpone cream. Sprinkle top with cocoa powder.
---
Garnishing Instructions
Not available.
---
Serving Instructions
Refrigerate for 2 hours before serving.
---
Related Recipes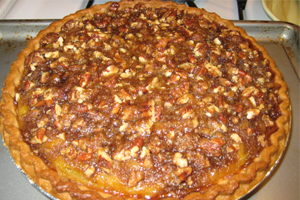 Caramel-Pecan Pumpkin Pie
---
| | | |
| --- | --- | --- |
| Type | :&nbsp&nbsp | Eggetarian |
| Calories | :&nbsp&nbsp | 446 |
| Cuisine | :&nbsp&nbsp | American |
| Course | :&nbsp&nbsp | Dessert |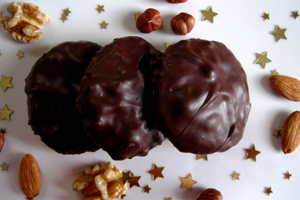 German Christmas Gingerbread
---
| | | |
| --- | --- | --- |
| Type | :&nbsp&nbsp | Eggetarian |
| Calories | :&nbsp&nbsp | 518 |
| Cuisine | :&nbsp&nbsp | German |
| Course | :&nbsp&nbsp | Dessert |