Thai Chicken Spring Rolls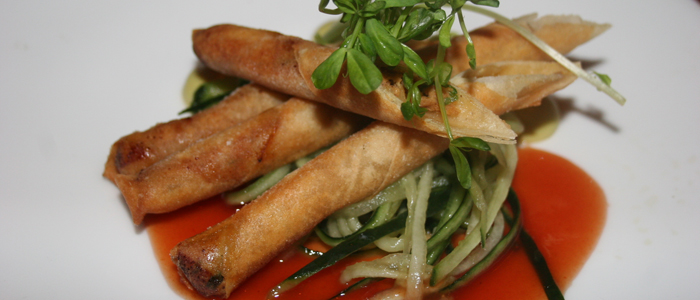 ---
| | | |
| --- | --- | --- |
| Cuisine | : | Thai |
| Calories | : | 40 |
| Type | : | Non Vegetarian |
| | | |
| --- | --- | --- |
| Serving Size | : | 8 |
| Course | : | Appetizer |
| Preparation Time | : | 35 Min |
---
INGREDIENTS
| No | Ingredient | Quantity | Measure Type |
| --- | --- | --- | --- |
| 1 | Mixed vegetables | 1 | Cup |
| 2 | Chicken | 1 | Cup |
| 3 | Canola oil | 1 to 2 | Cup |
| 4 | Spring roll wrappers | 8 | |
| 5 | Peanuts | 1/4 | Cup |
---
Recipe Details
---
Cooking Instructions
In a medium bowl, toss together the leftover chicken and vegetables. Put a wrapper onto a clean work surface with the corners of the wrapper facing North, South, East and West. Spoon about 2 to 3 tablespoons of the filling on the bottom third of the wrapper. Dampen the edges of the wrapper with some water to help it seal. Fold the bottom edge of the wrapper up over the filling and roll up half way. Fold the 2 side corners in toward the middle and continue to roll, pulling back slightly as you roll, to ensure a tightly wrapped spring roll. Repeat with the remaining wrappers and filling. Cover with a damp towel to keep them from drying out.
Heat the canola oil in a high-sided skillet over medium-high heat to 350 degrees F.
Add the spring rolls, 3 or 4 at a time, to the hot oil. Fry on all sides until crispy and golden brown in color, about 2 to 3 minutes per s side. Transfer the rolls to a serving platter
---
Garnishing Instructions
Not Available
---
Serving Instructions
serve with the peanut dressing
, for dipping.
---
Related Recipes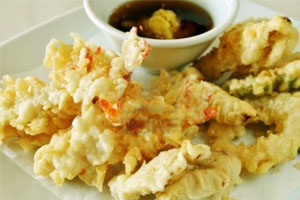 Japanese Style Deep Fried Shri..
---
| | | |
| --- | --- | --- |
| Type | :&nbsp&nbsp | Non Vegetarian |
| Calories | :&nbsp&nbsp | 630 |
| Cuisine | :&nbsp&nbsp | Japanese |
| Course | :&nbsp&nbsp | Appetizer |