Sweet Potato Burritos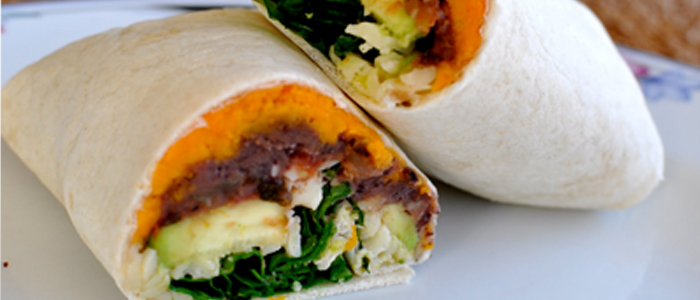 ---
| | | |
| --- | --- | --- |
| Cuisine | : | Mexican |
| Calories | : | 505 |
| Type | : | Vegetarian |
| | | |
| --- | --- | --- |
| Serving Size | : | 12 |
| Course | : | Main |
| Preparation Time | : | 50 Min |
---
INGREDIENTS
| No | Ingredient | Quantity | Measure Type |
| --- | --- | --- | --- |
| 1 | Vegetable oil | 1 | Tablespoon |
| 2 | Onion | 1 | |
| 3 | Garlic | 4 | Clove |
| 4 | Beans | 6 | Cup |
| 5 | Water | 2 | Cup |
| 6 | Red chilli powder | 3 | Tablespoon |
| 7 | Ground cumin | 2 | Teaspoon |
| 8 | Prepared mustard | 4 | Teaspoon |
| 9 | Cayenne pepper | 1 | Pinch |
| 10 | Soy sauce | 3 | Tablespoon |
| 11 | Potato | 4 | Cup |
| 12 | Flour tortillas | 12 | |
| 13 | Cheddar cheese | 8 | Ounces |
---
Recipe Details
Once you've had one - you'll want another. The recipe is a little different from most burrito recipes, but I've had many, many requests for it. Serve these with sour cream, chopped green onions and salsa. For vegan burritos, omit the cheese and sour cream. These may be made ahead of time, individually frozen, then heated. For an interesting variation, try deep frying these tasty burritos
---
Cooking Instructions
Preheat oven to 350 degrees F (175 degrees C).

Heat oil in a medium skillet, and saute onion and garlic until soft. Stir in beans, and mash. Gradually stir in water, and heat until warm. Remove from heat, and stir in the chili powder, cumin, mustard, cayenne pepper and soy sauce.

Divide bean mixture and mashed sweet potatoes evenly between the warm flour tortillas. Top with cheese. Fold up tortillas burrito style, and place on a baking sheet.

Bake for 12 minutes in the preheated oven, and serve.
---
Garnishing Instructions
Not available.
---
Serving Instructions
---
Related Recipes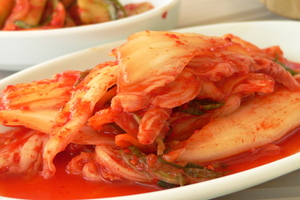 Spicy Cabbage Kimchi
---
| | | |
| --- | --- | --- |
| Type | :&nbsp&nbsp | Vegetarian |
| Calories | :&nbsp&nbsp | 15 |
| Cuisine | :&nbsp&nbsp | Korean |
| Course | :&nbsp&nbsp | Main |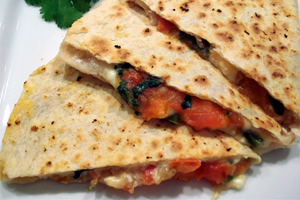 Vegetarian Quesadillas
---
| | | |
| --- | --- | --- |
| Type | :&nbsp&nbsp | Vegetarian |
| Calories | :&nbsp&nbsp | 209 |
| Cuisine | :&nbsp&nbsp | Mexican |
| Course | :&nbsp&nbsp | Main |