Sweet Corn Kachori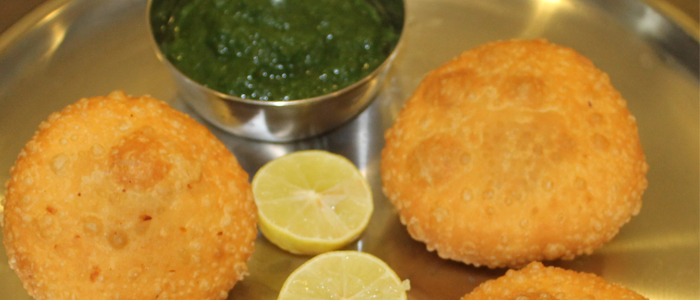 ---
| | | |
| --- | --- | --- |
| Cuisine | : | Indian |
| Calories | : | 144 |
| Type | : | Vegetarian |
| | | |
| --- | --- | --- |
| Serving Size | : | 6 |
| Course | : | Appetizer |
| Preparation Time | : | 20 Min |
---
INGREDIENTS
| No | Ingredient | Quantity | Measure Type |
| --- | --- | --- | --- |
| 1 | Maida | 1 | Cup |
| 2 | Sunflower oil | 1/4 | Cup |
| 3 | Water | | |
| 4 | Sweet corn | 1 | Cup |
| 5 | Coriander leaves | 2 | Tablespoon |
| 6 | Amchur powder | 1 | Teaspoon |
| 7 | Coriander powder | 1/2 | Teaspoon |
| 8 | Garam masala powder | 1/2 | Teaspoon |
| 9 | Chat masala | 1/2 | Teaspoon |
| 10 | Lemon juice | 1/2 | |
| 11 | Jeera | 1/2 | Teaspoon |
| 12 | Oil | | |
| 13 | Salt | to taste | |
| 14 | Ginger | 1 | |
| 15 | Green chiliy | 2 | |
---
Recipe Details
Sweet Corn Kachori

-

sweet corn

masala stuffed in dough & fried. yo

u can do by flattening the dough to round shape and stuff inside and close the dough.
---
Cooking Instructions


In 1 tsp oil,crackle cumin then add green chillies,ginger & sweetcorn,then all masalas.
Saute for few minutes as sweetcorn cooks very soon.Add salt and switch off the gas.
Add lemon juice,Mix well.Allow it to cool for sometime.
Take maida in a bowl and add hot oil and little water and knead the dough.
Divide the dough into 12 equal portions.
Make like modak shape by pressing with ur thumb and index fingers.
Stuff the filling inside the cupshaped modak and just close at the top and slightly press it.
Heat sufficient oil and deep fry the kachoris.
Low on medium flame till golden brown.
---
Garnishing Instructions
Not available.
---
Serving Instructions
Serve with chutneys or sauce.
---
Related Recipes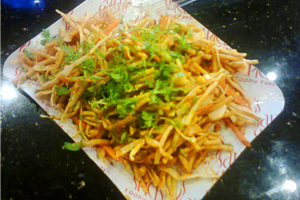 Noodle Bhel
---
| | | |
| --- | --- | --- |
| Type | :&nbsp&nbsp | Vegetarian |
| Calories | :&nbsp&nbsp | 73 |
| Cuisine | :&nbsp&nbsp | Indian |
| Course | :&nbsp&nbsp | Appetizer |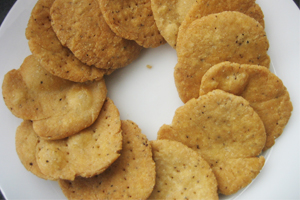 Mathri (Materi)
---
| | | |
| --- | --- | --- |
| Type | :&nbsp&nbsp | Vegetarian |
| Calories | :&nbsp&nbsp | 30 |
| Cuisine | :&nbsp&nbsp | Indian |
| Course | :&nbsp&nbsp | Appetizer |