Stuffed Brinjal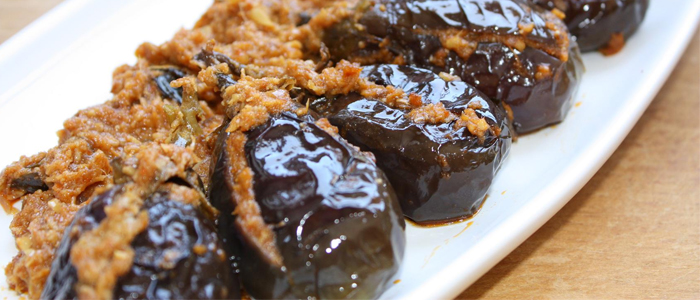 ---
| | | |
| --- | --- | --- |
| Cuisine | : | Indian |
| Calories | : | 163 |
| Type | : | Vegetarian |
| | | |
| --- | --- | --- |
| Serving Size | : | 4 |
| Course | : | Appetizer |
| Preparation Time | : | 30 Min |
---
INGREDIENTS
| No | Ingredient | Quantity | Measure Type |
| --- | --- | --- | --- |
| 1 | Brinjals | 200 | Gms |
| 2 | Onion | 10 | |
| 3 | Coconutmilk powder | 2 | Tablespoon |
| 4 | Peanuts | 1 | Tablespoon |
| 5 | Pepper | 4 | |
| 6 | Red chilli powder | 1 | Teaspoon |
| 7 | Coriander powder | 1 | Teaspoon |
| 8 | Turmeric powder | 1 | Pinch |
| 9 | Saunf | 1 | Teaspoon |
| 10 | Cinnamon powder | 1/2 | Teaspoon |
| 11 | Cardamom powder | 1/2 | Teaspoon |
| 12 | Curry leaves | | |
| 13 | Coriander leaves | | |
| 14 | Salt | 1 & 1/2 | Teaspoon |
| 15 | Refined oil | 4 | Teaspoon |
| 16 | Water | 1 | Cup |
| 17 | Tomato puree | 2 | Tablespoon |
| 18 | Coconutmilk powder | 2 | Tablespoon |
| 19 | Green chiliy | 1 | |
| 20 | Ginger | 1 | |
| 21 | Garlic | 4 | |
---
Recipe Details
Easy variation of stuffed brinjal recipe is given here.U can use fresh grated coconut instead of coconut milk powder. you can serve this dish dry or with thick gravy.Believe me,it is an easy( and tasty) preparation to try at home.
---
Cooking Instructions
Grind onions,tomato puree,coconutmilk,peanuts,turmeric powder,ginger,garlic,saunf,ground spice powder,salt,chilli powder,peppercorns,green chilli and coriander powder into a fine paste using mixer-grinder.
Cut the brinjals into 4 pieces (not fully-leave little stem part) and stuff the ground masala inside.
Heat oil in a kadai,add curry and coriander leaves and saute the brinjals so that they turn little brown on both sides.Now,clean the ground masala jar with 1 cup water and add it to the kadai with the left-over ground masala (if any).
Allow this to boil,stirring at times till water runs dry.
---
Garnishing Instructions
Not available
---
Serving Instructions
Serve this tasty stuffed brinjals with rice and sambar,curd rice etc or with Indian
breads.
---
Related Recipes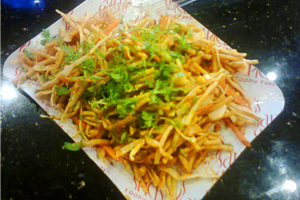 Noodle Bhel
---
| | | |
| --- | --- | --- |
| Type | :&nbsp&nbsp | Vegetarian |
| Calories | :&nbsp&nbsp | 73 |
| Cuisine | :&nbsp&nbsp | Indian |
| Course | :&nbsp&nbsp | Appetizer |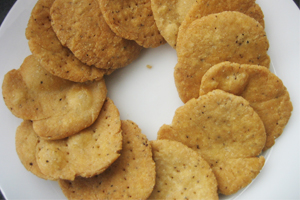 Mathri (Materi)
---
| | | |
| --- | --- | --- |
| Type | :&nbsp&nbsp | Vegetarian |
| Calories | :&nbsp&nbsp | 30 |
| Cuisine | :&nbsp&nbsp | Indian |
| Course | :&nbsp&nbsp | Appetizer |