Roghan Ghosht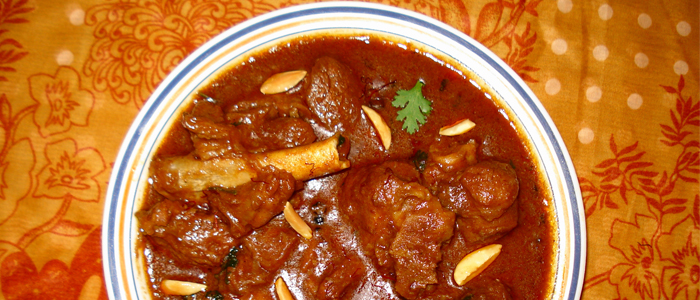 ---
| | | |
| --- | --- | --- |
| Cuisine | : | Indian |
| Calories | : | 380 |
| Type | : | Non Vegetarian |
| | | |
| --- | --- | --- |
| Serving Size | : | 4 |
| Course | : | Main |
| Preparation Time | : | 70 Min |
---
INGREDIENTS
| No | Ingredient | Quantity | Measure Type |
| --- | --- | --- | --- |
| 1 | Ground lamb | 750 | Gms |
| 2 | Oil | 4 | Tablespoon |
| 3 | Onion | 2 | |
| 4 | Yoghurt | 300 | Ml |
| 5 | Mint leaves | 1 | Teaspoon |
| 6 | Coriander leaves | 1 | Teaspoon |
| 7 | Cardamom | 6 | |
| 8 | Clove | 6 | |
| 9 | Cinnamon stick | 1 | |
| 10 | Almonds | 125 | Gms |
| 11 | Salt | to taste | |
| 12 | Garlic | 2 | |
| 13 | Ginger | 1 | |
| 14 | Green chiliy | 2 | |
| 15 | Coriander seeds | 1 | Tablespoon |
| 16 | Cumin seed | 1 | Teaspoon |
---
Recipe Details
Roghan Ghosht

is one of the signature dishes from the magnificent state of Kashmir. Brimming with flavors of cinnamon, ginger.
---
Cooking Instructions
Heat 2 tbsp oil in a pan. Add half of the onions and fry until golden brown. Add lamb and 3/4th of the yogurt, Stir well cover it with a lid and simmer for 20mins.
Place the garlic, ginger, chillies, coriander seeds, cumin seeds, mint, coriander leaves and remaining yogurt in a blender and make a paste.
Heat the remaining oil in a saucepan. Add tha cardamoms, cloves and cinnamon, stir-fry for 1min. Add remaining onion and the prepared paste and fry, stirring constantly for 5mins.
Add the lamb mixture and salt. Stir well and bring to simmer. Cover it with a lid and cook for 30mins. Add the almonds and cook for further 15mins until the meat is tender.
---
Garnishing Instructions
Not available.
---
Serving Instructions
---
Related Recipes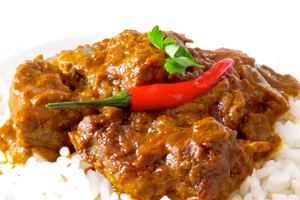 Kashmiri Lamb
---
| | | |
| --- | --- | --- |
| Type | :&nbsp&nbsp | Non Vegetarian |
| Calories | :&nbsp&nbsp | 489 |
| Cuisine | :&nbsp&nbsp | Indian |
| Course | :&nbsp&nbsp | Main |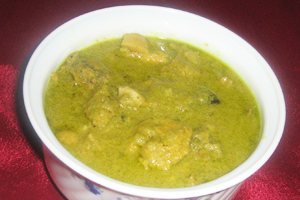 Spicy Indian Chicken with Gree..
---
| | | |
| --- | --- | --- |
| Type | :&nbsp&nbsp | Non Vegetarian |
| Calories | :&nbsp&nbsp | 190 |
| Cuisine | :&nbsp&nbsp | Indian |
| Course | :&nbsp&nbsp | Main |