Roasted Tomato Salsa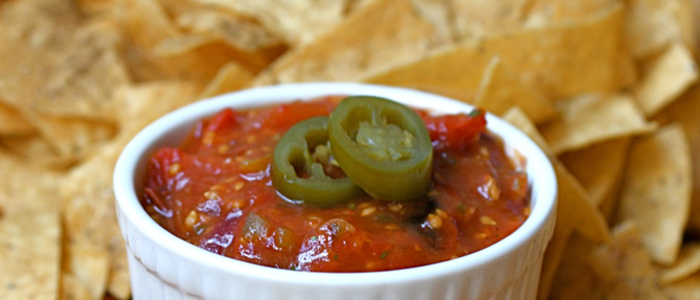 ---
| | | |
| --- | --- | --- |
| Cuisine | : | Mexican |
| Calories | : | 15 |
| Type | : | Vegetarian |
| | | |
| --- | --- | --- |
| Serving Size | : | 16 |
| Course | : | Main |
| Preparation Time | : | 20 Min |
---
INGREDIENTS
| No | Ingredient | Quantity | Measure Type |
| --- | --- | --- | --- |
| 1 | Olive oil | 1 & 1/2 | |
| 2 | Onion | 1 | |
| 3 | Jalapeno chile pepper | 1 | |
| 4 | Ground cumin | 1 | Teaspoon |
| 5 | Salt | 1/4 | Teaspoon |
| 6 | Cilantro | 1/4 | Cup |
| 7 | Lime juice | 3 | |
| 8 | Tomato | 12 | |
| 9 | Garlic | 2 | Clove |
---
Recipe Details
This chunky salsa tastes amazing with tortilla chips. Roasted tomatoes, garlic, onion and jalapeno are blended with cilantro and cumin to create one of the tastiest and easiest Mexican-inspired recipes you will ever try.
---
Cooking Instructions
Preheat the broiler. In a medium baking dish, place roma (plum) tomatoes, garlic, onion and jalapeno chile pepper. Drizzle with olive oil. Checking often, broil 5 to 10 minutes, or until outsides of vegetables are charred. Remove vegetables from heat. Remove and discard tomato cores, jalapeno stem and garlic skins. In a food processor, coarsely chop the charred vegetables. Transfer to a medium bowl and mix in cumin, salt, lime juice and cilantro.
---
Garnishing Instructions
---
Serving Instructions
Store in the refrigerator in a container with a tightfitting lid for up to 4 days.
---
Related Recipes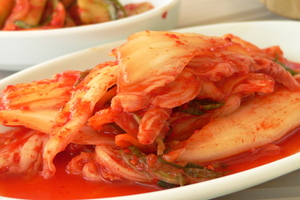 Spicy Cabbage Kimchi
---
| | | |
| --- | --- | --- |
| Type | :&nbsp&nbsp | Vegetarian |
| Calories | :&nbsp&nbsp | 15 |
| Cuisine | :&nbsp&nbsp | Korean |
| Course | :&nbsp&nbsp | Main |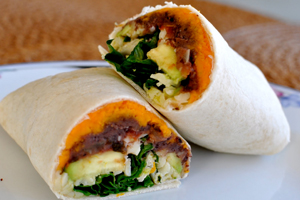 Sweet Potato Burritos
---
| | | |
| --- | --- | --- |
| Type | :&nbsp&nbsp | Vegetarian |
| Calories | :&nbsp&nbsp | 505 |
| Cuisine | :&nbsp&nbsp | Mexican |
| Course | :&nbsp&nbsp | Main |