Ratatouille Nicoise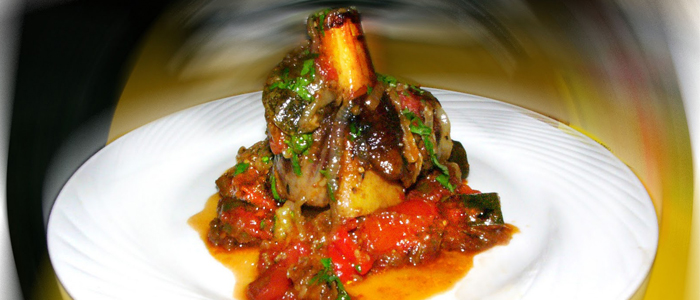 ---
| | | |
| --- | --- | --- |
| Cuisine | : | French |
| Calories | : | 39 |
| Type | : | Vegetarian |
| | | |
| --- | --- | --- |
| Serving Size | : | 8 |
| Course | : | Main |
| Preparation Time | : | 50 Min |
---
INGREDIENTS
| No | Ingredient | Quantity | Measure Type |
| --- | --- | --- | --- |
| 1 | Butternut squash | 4 | Cup |
| 2 | Zucchini | 2 | |
| 3 | Red bell pepper | 1 | |
| 4 | Rosemary leaves | 2 | |
| 5 | Thyme leaves | 2 | |
| 6 | Olive oil | 4 | |
| 7 | Salt | 3/4 | Teaspoon |
| 8 | Black pepper | 1/4 | Teaspoon |
| 9 | Capers | (optional) | Tablespoon |
| 10 | Tomato | 5 | |
| 11 | Garlic | 2 | Clove |
---
Recipe Details
This ratatouille Nicoise is caramelizes vegetables, including the slightly non-traditional butternut squash. Tossed with an easy-to-make roasted garlic oil and tangy capers, this ratatouille from Nice is deliciously Mediterranean.
---
Cooking Instructions
Preheat the oven to 375F. Toss the prepared butternut squash, zucchini, bell pepper, tomatoes, garlic, rosemary, and thyme with 2 tablespoons of olive oil. Arrange the vegetables in a single layer in a large oven-proof baking dish and roast the vegetables for 25 minutes.
Once the garlic has browned, remove it and set it aside. Continue cooking the remaining vegetables for an additional 15 minutes or until they have all turned golden brown around the edges. Transfer the vegetables a large bowl.
Smash the reserved garlic with a fork until it forms a smooth paste and mix it into the remaining 2 tablespoons of olive oil. Toss the roasted ratatouille with the garlic dressing, salt, pepper, and drained capers.
---
Garnishing Instructions
Not Available.
---
Serving Instructions
Serve it warm or at room temperature.
---
Related Recipes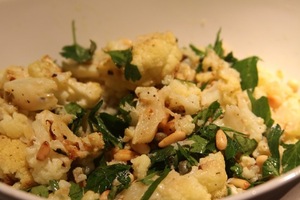 French Roasted Cauliflower Wit..
---
| | | |
| --- | --- | --- |
| Type | :&nbsp&nbsp | Vegetarian |
| Calories | :&nbsp&nbsp | 90 |
| Cuisine | :&nbsp&nbsp | French |
| Course | :&nbsp&nbsp | Main |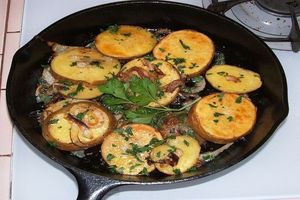 Potatoes lyonnaise
---
| | | |
| --- | --- | --- |
| Type | :&nbsp&nbsp | Vegetarian |
| Calories | :&nbsp&nbsp | 364 |
| Cuisine | :&nbsp&nbsp | French |
| Course | :&nbsp&nbsp | Main |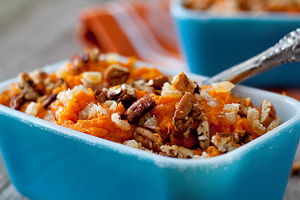 Sweet Potato Casserole
---
| | | |
| --- | --- | --- |
| Type | :&nbsp&nbsp | Vegetarian |
| Calories | :&nbsp&nbsp | 226 |
| Cuisine | :&nbsp&nbsp | French |
| Course | :&nbsp&nbsp | Main |