Pot Stickers (Chinese Dumplings)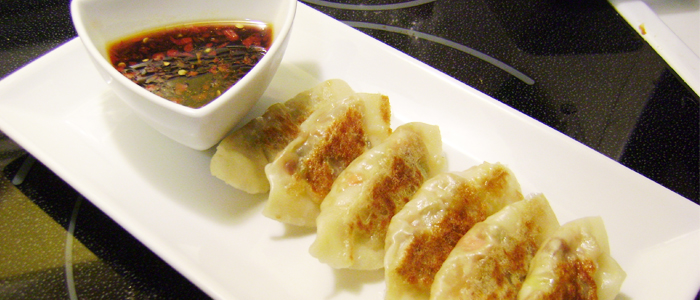 ---
| | | |
| --- | --- | --- |
| Cuisine | : | Chinese |
| Calories | : | 411 |
| Type | : | Non Vegetarian |
| | | |
| --- | --- | --- |
| Serving Size | : | 12 |
| Course | : | Appetizer |
| Preparation Time | : | 62 Min |
---
INGREDIENTS
| No | Ingredient | Quantity | Measure Type |
| --- | --- | --- | --- |
| 1 | Shrimp | 1 | Pound |
| 2 | Ground beef | 4 | Pound |
| 3 | Shallots | 1 | |
| 4 | Green onion | 1 | Bunch |
| 5 | Cabbage | 3 | |
| 6 | Sesame oil | 1 | Teaspoon |
| 7 | Salt and white pepper | to taste | |
| 8 | Vegetable oil | | |
| 9 | Water | 1/4 | Cup |
---
Recipe Details
An authentic potsticker recipe using ground beef and ground shrimp instead of the usual pork filling. You can fill the whole package of gyozu wrappers and have filling left over for next time around.
---
Cooking Instructions
---
Garnishing Instructions
Not available.
---
Serving Instructions
---
Related Recipes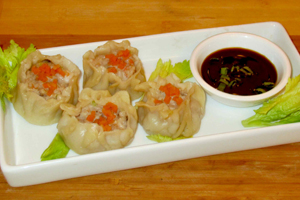 Shrimp and Ginger Siu Mai Dump..
---
| | | |
| --- | --- | --- |
| Type | :&nbsp&nbsp | Non Vegetarian |
| Calories | :&nbsp&nbsp | 60 |
| Cuisine | :&nbsp&nbsp | Chinese |
| Course | :&nbsp&nbsp | Appetizer |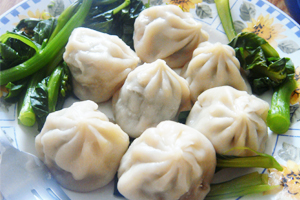 Chinese Pork Dumplings
---
| | | |
| --- | --- | --- |
| Type | :&nbsp&nbsp | Non Vegetarian |
| Calories | :&nbsp&nbsp | 540 |
| Cuisine | :&nbsp&nbsp | Chinese |
| Course | :&nbsp&nbsp | Appetizer |