Piroshki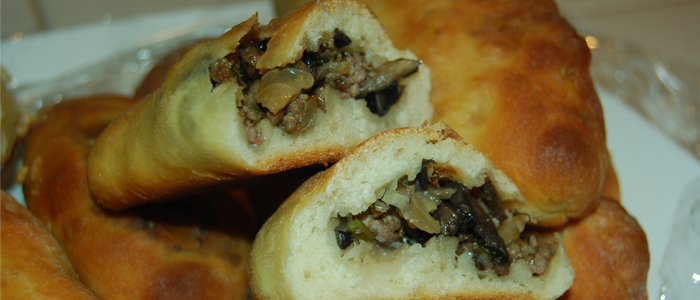 ---
| | | |
| --- | --- | --- |
| Cuisine | : | Russian |
| Calories | : | 447 |
| Type | : | Non Vegetarian |
| | | |
| --- | --- | --- |
| Serving Size | : | 11 |
| Course | : | Main |
| Preparation Time | : | 120 Min |
---
INGREDIENTS
| No | Ingredient | Quantity | Measure Type |
| --- | --- | --- | --- |
| 1 | Ground beef | 1 & 1/2 | Pound |
| 2 | Onion | 1 | |
| 3 | Salt | 1 | Cup |
| 4 | Black pepper | | To taste |
| 5 | Dried dill | | To taste |
| 6 | Active dry yeast | 1/4 | Ounces |
| 7 | Warm water | 1/4 | Cup |
| 8 | Milk | 1 | Cup |
| 9 | Egg | 3 | |
| 10 | Vegetable oil | 1/2 | Cup |
| 11 | Granulated sugar | 2 | Tablespoon |
| 12 | All-purpose flour | 4 | Cup |
| 13 | Oil | 3 | Cup |
---
Recipe Details
These are as authentic Russian as you can get without traveling to Russia. I received the recipe from my Russian language teacher in high school and have been making them ever since. The kids like them too! They take a little time to roll out - but then doesn't anything 'authentic' take a little time?
---
Cooking Instructions
---
Garnishing Instructions
Not available.
---
Serving Instructions
Remove and let drain on a plate lined with paper towels.
---
Related Recipes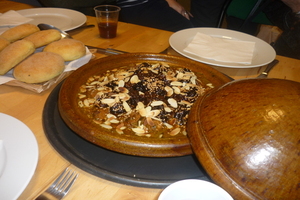 Moroccan Tagine
---
| | | |
| --- | --- | --- |
| Type | :&nbsp&nbsp | Non Vegetarian |
| Calories | :&nbsp&nbsp | 159 |
| Cuisine | :&nbsp&nbsp | Moroccan |
| Course | :&nbsp&nbsp | Main |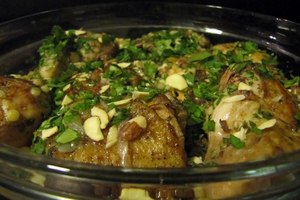 Moroccan Chicken
---
| | | |
| --- | --- | --- |
| Type | :&nbsp&nbsp | Non Vegetarian |
| Calories | :&nbsp&nbsp | 370 |
| Cuisine | :&nbsp&nbsp | Moroccan |
| Course | :&nbsp&nbsp | Main |